---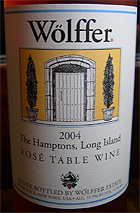 Wolffer Estate Vineyard
2004 Rose
(Hamptons Long Island)
Year in and year out, Wolffer makes one of the best Roses not only on the Island but that I taste period. It's always bone dry and exceptionally balanced with fruit, acidity and class.
The 2004 vintage is 80% Merlot, 15% Pinot Noir and 5% Chardonnay. They produced around 2,500 cases and it was bottled a month or so ago.
Eyes: Light orange with a copper hue. It looks juicy and refreshing, and is much darker in the bottle than the 2003 vintage was.
Nose: The nose is fruity with strawberries, cherries and hints of apricots and grapefruit.
Tongue: Extremely fresh and fruity with red berries and citrus, it's crisp, but doesn't feature as much acidity as the 2003, giving it a slightly fuller mouthfeel that is almost creamy on the finish (gotta be that Chardonnay). As with most Roman Roth creations, it's very well balanced and delicious
Overall/Food: While the 2003 begged to be enjoyed along side fresh fish and shellfish, I think the 2004 would be equally at home along side chicken and even your Thanksgiving turkey...as well as an aperitif this summer. Serve it well chilled and enjoy how it changes as it warms. Price: $14
Reviewed May 11, 2005 by Lenn Thompson.
---
Winery: Wolffer Estate Vineyard
Vintage: 2004
Wine: Rose
Appellation: Hamptons Long Island
Grapes: Merlot (80%), Pinot Noir (15%), Chardonnay (5%)



Lenn Thompson

Lenn Thompson writes about New York wines for Dan's Papers,
Long Island Press, Long Island Wine Gazette, Edible East End and Hamptons.com. Two words describe his taste in wine — balance and nuance. Lenn prefers food-friendly, elegant wines to jammy, over-extracted fruit bombs and heavy-handed oak. When reviewing, Lenn tastes each wine three times — alone right after opening, with food, and again the next day — believing that 90-second reviews are unrealistic and not how the average person enjoys wine.