---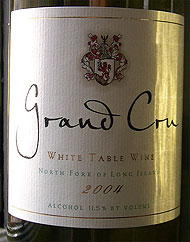 Raphael
2005 Grand Cru Chardonnay
(North Fork of Long Island)
Raphael, established in 1996 in lovely Peconic on Long Island's North Fork is best known for it's red wines -- particularly merlot. And, winemaker Richard Olsen-Harbich crafts one of the better local sauvignon blancs.
He's said however, that only having the one white (and it's not chardonnay) wine has turned some tasting room visitors off.
There is no doubt in my mind that their latest white release, a 2004 Grand Cru White Table Wine ($15) was conceptualized to cater to those white wine wanters.
It's 100% chardonnay from nearby Osprey's Dominion Vineyard and made 100% in stainless steel, which just happens to be a style of chardonnay that I really enjoy.
Why call it Grand Cru and not chardonnay? It's much more about avoiding any chardonnay bias than playing on the reputation of French Grand Crus. If they were going to do that, they'd probably have called it Chablis.
This is chardonnay, but not in the usual American oaky/buttery sense. Again, this is a wine made for the people and thankfully, fewer and fewer people want that style of over-manipulated chardonnay.
Eyes: Light, very-clear lemon yellow
Nose: Citrusy apples with a little blanched almond in the background
Tongue: This wine is relatively light bodied and offers nice, fresh acidity. The flavors match the nose with a slightly mineral finish. Clean, crisp and easy to drink there's not much complexity here, but there doesn't need to be. Very food friendly and again, in a style I relish.
Reviewed March 8, 2006 by Lenn Thompson.
Other reviewed wines from Raphael
---
Winery: Raphael
Vintage: 2005
Wine: Grand Cru Chardonnay
Appellation: North Fork of Long Island
Grape: Chardonnay
Price: 750ml $15.00



Lenn Thompson

Lenn Thompson writes about New York wines for Dan's Papers,
Long Island Press, Long Island Wine Gazette, Edible East End and Hamptons.com. Two words describe his taste in wine — balance and nuance. Lenn prefers food-friendly, elegant wines to jammy, over-extracted fruit bombs and heavy-handed oak. When reviewing, Lenn tastes each wine three times — alone right after opening, with food, and again the next day — believing that 90-second reviews are unrealistic and not how the average person enjoys wine.