---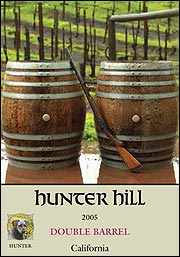 Hunter Hill Vineyard & Winery
2005 Double Barrel
(California)
Soquel winemaker Van Slatter's first white ever for Hunter Hill, this wine has a clever name and very fun label, with two wine barrels and a double-barrel shotgun making a simple statement: drink this wine or else! It's also a subtle warning that there is plenty of oak to be found inside the bottle. From the first whiff, you get a sense that two barrels indeed were conspiring here to leave their indelible mark. The label says it shoots straight to please the palate of every Rhone wine lover. Turns out the wine is named for Van's favorite double barrel shotgun that has accompanied him on many a hunt.
The wine itself is an interesting combination, with the usual litheness and delicacy of the Viognier being somewhat smothered by the cloyingly affectionate Roussanne. She tends to really put herself all out, like a woman who seriously flaunts the frills, the lace, the revealing blouses and not so subtle mid-riff exposure. Viognier on the other hand, tends to eschew low-cut dresses for simple chemises and tasteful linen pantsuits, perhaps set off with a simple scarf or a pair of gloves: quite daintily feminine. Imagine a movie co-starring cool Gwyneth Paltrow and steamy Raquel Welch and you get the essence of this wine. Talk about a double barrel feature!
Reviewed June 29, 2006 by Laura Ness.
Other reviewed wines from Hunter Hill Vineyard & Winery

Hunter Hill Vineyard & Winery


2004 Hunter's Blend
(California)
Laura Ness 2/9/2007

Hunter Hill Vineyard & Winery


2003 Merlot, Estate
(Santa Cruz Mountains)
Laura Ness 12/11/2006

Hunter Hill Vineyard & Winery


2004 Pinot Noir, Hellenthal Vineyard
(Sonoma Coast)
Laura Ness 11/30/2006
---
Winery: Hunter Hill Vineyard & Winery
Vintage: 2005
Wine: Double Barrel
Appellation: California
Grapes: Viognier, Roussanne
Price: 750ml $20.00



Laura Ness

A wine writer and wine judge for major publications and competitions around the country, Laura Ness likens wine to the experience of music. She is always looking for that ubiquitous marriage of rhythm, melody, and flawless execution. What is good music? You know it when you get lost in it. What is good wine? It is music in your mouth.