---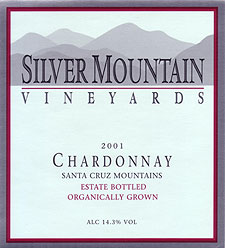 Silver Mountain Vineyards
2001 Chardonnay - Organically Grown, Estate
(Santa Cruz Mountains)
How lucky you are to have this fine example of an age-worthy Santa Cruz Mountains Chardonnay at your disposal! Lucky, even more, because you will never find a French Burgundy this good and this rich for close to this price. This is the real deal: rich, lush, beautifully balanced, and showing its fine age as gracefully as Blythe Danner. In fact, the French would kill for this wine: its ripe femininity is so balanced with its still vibrant core, that even Brigitte Bardot would drop her silly poodle and exclaim, "Oohh-la-lah! Zeez Americains, zey are so OTT!" (Then, she would probably ask her pool boy to bring her another glass forthwith.)

Despite the imaginary Brigitte endorsement, (it did win Silver at both the 2003 and 2004 Santa Cruz Wine Competition), this wine immediately establishes its demure but dominating presence with intoxicating aromas of butterscotch, honey, popcorn (yes!), baked apples and mangoes. One sip of this wine, and you will be swept under by its toure de force of honey-dripping sweetness, supple texture, lively flavors of passionfruit, casaba melon, drippy ripe peaches and a lovely finish of almonds. It's a sultry warm Singaporean afternoon, just waiting for a thundershower. You can literally feel the tension building up. If someone were really smart, this would be the perfect first date wine: something that would never be forgotten, and if cards were played correctly, this would end up being on the wedding table. Winemaker Jerold O'Brien would probably be happy to provide the perfect setting for a pre-wedding reception, or a small wedding ceremony. And you cannot beat the view from this 2100 foot perch above the entire Santa Cruz Coast. You can even see the Boardwalk!

This wine would be fabulous paired with Gorgonzola dolce, St Augur or even P'tit Basque. Also would be lovely with a first course of Coquilles St Jacques. Now, bien sur, we have BB's attention.

(Alc: 14.3%, Retail: $22)
Reviewed July 14, 2006 by Laura Ness.
Other Awards & Accolades
Silver Medal - 2005 Santa Cruz Mountains Commercial Wine Competition
Silver Medal - 2004 Santa Cruz Mountains Commercial Wine Competition
Bronze Medal - 2005 San Francisco Chronicle Wine Competition
Other reviewed wines from Silver Mountain Vineyards
---
Winery: Silver Mountain Vineyards
Vineyard: Estate
Vintage: 2001
Wine: Chardonnay - Organically Grown
Appellation: Santa Cruz Mountains
Grape: Chardonnay
Price: 750ml $22.00



Laura Ness

A wine writer and wine judge for major publications and competitions around the country, Laura Ness likens wine to the experience of music. She is always looking for that ubiquitous marriage of rhythm, melody, and flawless execution. What is good music? You know it when you get lost in it. What is good wine? It is music in your mouth.