---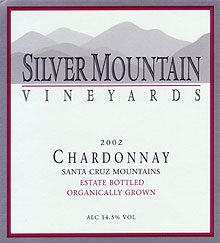 Silver Mountain Vineyards
2002 Chardonnay - Organically Grown, Estate
(Santa Cruz Mountains)
This estate grown wine shares many similarities with other Chardonnays produced in the Summit Area of the Santa Cruz Mountains, most notably those from Burrell School Vineyards. These Chardonnays are intensely flavored, minerally-rich, and display a lively acidic core, with a structure that benefits from bottle aging. Silver Mountain's Estate Chardonnay is from the Mount Eden clone, brought from Burgundy (allegedly from one of Louis Latour's vineyards) by Paul Masson in the 1890s. Martin Ray later planted the clone in the early 1940s at his vineyard, which is now Mount Eden Vineyards, in Saratoga. This clone helped Martin Ray revolutionize the art of winemaking in California by using noble Burgundian varietals at a time when most wine was blended from inferior grapes. Martin Ray claimed that California could produce wine as good as that from France, and indeed he proved his point.

The Mount Eden clone has a typical yield of only one to two tons per acre, and the vines produce fruit with tiny berries. The resulting wine goes from citrus to apple to stone fruits to ripe tropical fruits and then back again, making it a delight to enjoy. This is complex Chardonnay: not that simple dreadful swill commonly served by the glass at your local watering hole.

This 2002 is medium yellow, like a bunch of roses, and has a rich creamy vanilla nose, accented by ripe pear and ripe yellow nectarines. On the palate, it is baked apples, ripe casaba melons, rich pear and a good measure of pineapple and mango. It has a slightly nutty finish, with more creamy oak (60% French and 40% Eastern European), and delightful hint of kumquats and limes. No question: this is a food wine that would be divine with cream cheese and apricot chutney or chicken salad with dried apricots, fennel and a buttermilk-lime with poppyseed dressing. It will age nicely for another 3 to 5 years. If you're looking for a Chardonnay that you can drink like a red wine, consider this one.

(Alc: 14.5%, Retail: $22)
Reviewed July 25, 2006 by Laura Ness.
Other reviewed wines from Silver Mountain Vineyards
---
Winery: Silver Mountain Vineyards
Vineyard: Estate
Vintage: 2002
Wine: Chardonnay - Organically Grown
Appellation: Santa Cruz Mountains
Grape: Chardonnay
Price: 750ml $22.00



Laura Ness

A wine writer and wine judge for major publications and competitions around the country, Laura Ness likens wine to the experience of music. She is always looking for that ubiquitous marriage of rhythm, melody, and flawless execution. What is good music? You know it when you get lost in it. What is good wine? It is music in your mouth.