---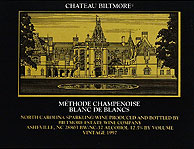 Biltmore Estate Wine
Chateau Biltmore - Methode Champenoise Blanc de Blancs Brut
(North Carolina)
Set on 8,000 acres in Asheville, NC, Biltmore's 250-room mansion is the largest private home in America and one of the country's top tourist attractions attracting nearly a million visitors a year. With case production of 130,000 cases annually, Biltmore is North Carolina's largest producer of Vitis vinifera wines. Of this production, some 80 to 85 percent comprises Biltmore's America line of wines, made from grapes purchased from the west coast.

Biltmore has had a time in recent years with challenges from Mother Nature: hurricane-induced torrential rains in 2003 and 2004; and a killing frost in May of 2005, severely curtailed wine production from Biltmore's 84 acres of mountain vineyards. In 2001 and 2002, however, the estate produced excellent and award-winning Cabernet Franc, Chardonnay and a red Meritage blend from North Carolina grapes.

Biltmore has expanded its sparkling wine program in the last two years, producing several sparkling wines with grapes from other sources (California, Washington). But the homegrown méthode champenoise version is their best. Winemaker Bernard deLille has given the wine a deft touch of French finesse, and in my view it can stand with fine sparkling wines made anywhere.

With subtle scents of green apple and citrus, this dry sparkler made from 100 percent NC Chardonnay is quite scintillating. A spine of acidity gives it great length, demonstrating why it's worth growing Chardonnay in North Carolina, and how the 2100-foot elevation makes it particularly suitable for sparkling wine.
Reviewed August 16, 2006 by Barbara Ensrud.
---
Winery: Biltmore Estate Wine
Vintage:
Wine: Chateau Biltmore - Methode Champenoise Blanc de Blancs Brut
Appellation: North Carolina
Grape: Chardonnay
Price: 750ml $29.99



Barbara Ensrud

Barbara Ensrud has been writing about and reviewing wines since 1979, with a nationally syndicated column for the New York Daily News and numerous other publications. Her "no numbers" approach to evaluating wine is simple: how does it taste – on its own, as well as with particular foods? Is it good value, whether $10 or $210? Does it measure up in terms of varietal character and regional identity? …"When I taste a good wine, I can't wait to share it with fellow wine lovers."