---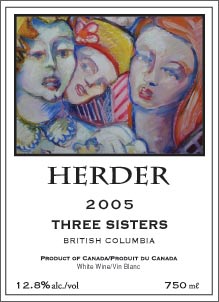 Herder Winery & Vineyards
2005 Three Sisters
(British Columbia)
Perhaps because he is an American, Lawrence Herder is as independent-minded as any winery proprietor in British Columbia. He once was a leading partner in a winery in Paso Robles (it was also called Herder). When he decided to start a winery in British Columbia – his wife, Sharon, is Canadian – Herder headed not to the vineyard-crowded Okanagan but to the Similkameen Valley, which then had only two other wineries. Herder Winery opened in 2004. There are now five wineries in the appellation, with at least three others under development.

There is a contrary note on the back label of this wine. At a time when there is a veritable stampede to bottling wines under screw cap, Herder proclaims that this wine (and its companion Chardonnay) are closed with "natural cork." So much for getting on board trends!

This proprietary white wine, of which only 185 cases were made, is Lawrence Herder's venture into the art of blends a la Conundrum. The varietals and the blending proportions will vary from vintage to vintage. For this wine, he obtained fruit both from Similkameen vineyards and from Black Sage Road in the Okanagan and he used varied treatments, such as barrel-fermenting the Chardonnay. The result is a wine with an attractive light gold colour, aromas of pears and tropical fruits, a full body and layer upon layer of fruit flavour: pears, cantaloupes, papaya, with a dry finish. 88 points.
Reviewed September 8, 2006 by John Schreiner.
Other reviewed wines from Herder Winery & Vineyards
---
Winery: Herder Winery & Vineyards
Vintage: 2005
Wine: Three Sisters
Appellation: British Columbia
Grapes: Pinot Gris / Grigio (33%), Chardonnay (33%), Viognier (20%), Gewurztraminer (14%)
Price: 750ml $19.90



John Schreiner

John Schreiner has been covering the wines of British Columbia for the past 30 years and has written 10 books on the wines of Canada and BC. He has judged at major competitions and is currently a panel member for the Lieutenant Governor's Awards of Excellence in Wine. Both as a judge and as a wine critic, he approaches each wine not to find fault, but to find excellence. That he now finds the latter more often than the former testifies to the dramatic improvement shown by BC winemaking in the past decade.