---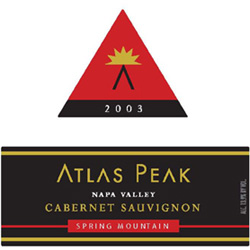 Atlas Peak Vineyards
2003 Cabernet Sauvignon
(Spring Mountain District ~ Napa Valley)
This is one of the first Cabernet Sauvignons in Atlas Peak Winery's "high elevation" or mountain wine program – an attempt to separate itself from the yolk of Sangiovese with which it's been saddled since the 1990s. (See related story.) The Italian variety didn't do it for Atlas Peak – as apparently it hasn't for much of California. So, the winery is bringing in fruit – specifically Cabernet Sauvignon – from the Napa Valley's higher regions to prove that it can make great Cabs; and is putting them up against its estate Cab to further make the point that that variety is the present and future of APW, as well as the Atlas Peak appellation.

Thus far, the winery has made a quartet of wines from the 2003 vintage with others, such as a Diamond Mountain Cab, to follow. I previously recommended the winery's own Claret bottling. My favorite of the four "high elevation" offerings is the Spring Mountain. The Cab from Howell Mountain is also recommended but I took a pass on the Mt. Veeder entry. I liked the wine a lot, but given the price (which is the same for all the wines in the program), it fell a little short for my criterion.

So, let's take the Spring Mountain, from a small parcel that the grower, according to Atlas Peak's corporate owner Beam Wine Estates, wouldn't allow it to disclose. Purple-black in color, not unlike that of Superman's hair, with aromas that are at this point a bit closed in. But on the palate, the wine reveals deep-flavored and layered textures starting with great fruit, heft, and balance. It's very young, but it displays those fine-grained tannins that are indigenous to Spring Mountain. It's going to be a great wine if you'll have the patience to hold onto it for three years and then enjoy over the next 25.

Once back at the winery, the wine was racked into new (90 percent) and 3-year-old French oak, where it spent 1 ½ years. The listed alcohol is 13.9 percent and there were 583 cases produced by winemaker Darren Procsal.
Reviewed November 22, 2006 by Alan Goldfarb.
Other reviewed wines from Atlas Peak Vineyards
---
Winery: Atlas Peak Vineyards
Vintage: 2003
Wine: Cabernet Sauvignon
Appellation: Spring Mountain District ~ Napa Valley
Grapes: Cabernet Sauvignon (96%), Petit Verdot (3%), Merlot (1%)
Price: 750ml $85.00



Alan Goldfarb

Alan Goldfarb has been writing about and reviewing wine for 17 years. His reviews have been published in the St. Helena Star, San Jose Mercury, San Francisco Examiner, Decanter, and Wine Enthusiast, among others. Not once has he used a point system, star system, or an iconic symbol to quantify a wine. What counts in Mr. Goldfarb's criteria when judging a wine is: how it tastes in the glass; is it well-constructed; its food compatibility; and presence of redeeming regional attributes.