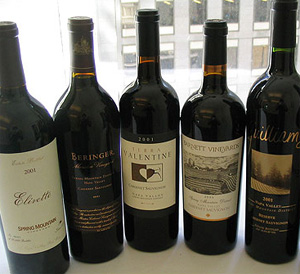 Spring Mountain District ~ Napa Valley
2001 Spring Mountain District Cabernet Sauvignon
by Alan Goldfarb, Napa Regional Editor


"Isn't defining terroir coming to peace with what our climate gives us?"
~ Craig Becker,
Peacock Family winemaker

Signature of the Appellation:

Spring Mountain Cabernet Sauvignon is marked by earthy, dusty and forest floor aromas. Fruit and spice characteristics run from clove and brown spice to dark black and brandied cherries, blueberry, raspberry, and anise. Oak is typically well-integrated and does not dominate the wines.
---
<!> see Alan Goldfarb's supplementing article:
Profiling the Spring Mountain District of the Napa Valley
RECORD OF PROCEEDINGS
On Presidents Day, February 20, 2006, five top winemakers from within the
Spring Mountain District
American Viticultural Area (AVA) gathered in AppellationAmerica's downtown San Francisco offices. Joining the five-member Discovery Panel on this day were a handful of others, including winemakers and wine writers, sitting on a Confirmation Panel. Together the group would taste a total of 25 Spring Mountain District
Cabernet Sauvignon
s from two different vintages and 16 wineries, looking to identify common themes which could be considered the
Signature
of the appellation.
All wines were tasted blind and were scrutinized in three stages:
1.) An independent organoleptic assessment to determine the individual characteristics and overall quality of each wine;
2.) A group discussion to coalesce an
Appellation Identity
based on dominant patterns in the wines;
3.) Identifying the "Signature" wines -- those wines that best represent what a Spring Mountain Cabernet should taste like in its terroir and stylistic commonalities, as determined in stage 2.
(The first and third stages of this process were initially approached silently with discussion following.)
Note:
During this exercise, the 2001 and 2002 vintages, in two flights of 12 and 13 wines respectively, were tasted. However, only the results of the 2001s will be addressed in this Record of Proceedings. While clear patterns of commonality emerged in the 2001s, the 2002s -- because of their general immaturity --were a more disjointed group. And while there were many very fine wines in the group, in the end, AppellationAmerica and its panel of tasters agreed that it would not be fair to scrutinize these wines at this stage of their development, in hopes of determining meaningful terroir and stylistic commonalities. We will revisit the 2002s at a later date.
---
An Overview of the 2001 Vintage on Spring Mountain:
(According to the winemakers sitting on the Discovery and Confirmation Panels)
In general, the 2001 vintage in the
Napa Valley
saw an early spring with up and down swings due to a surprise frost and early heat spikes. But the weather evened out, condensing the harvest and producing a near simultaneous crush of grapes.
It was a "Goldilocks" vintage because there was no rain during the growing season. Bud break occurred within a week of the Valley floor, when those on the mountain usually see bud break three weeks earlier than their colleagues below on the flats. In terms of maturation, it was an "optimal year." If you had the "patience and the nerves," you could pick at optimum maturity. But some growers on the mountain chose to pick early.
The season began with a cold and harsh March, with two deceptive heat spikes into the 80s, which coaxed the vines into a slightly earlier bloom. The hottest May on record and the third hottest June (in total degree days) led to a harvest time around two to three weeks ahead of normal. August cooled to near perfect temperatures with cool nights, allowing the grapes to settle and extend maturation on the vine, producing very clean fruit. In general, 2001 produced wines of very high quality.
Discovery Tasting Analysis: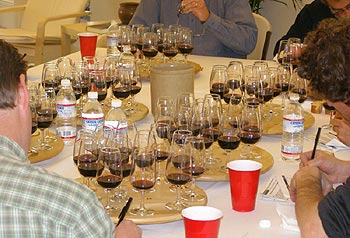 Only four of the 12 wines in the flight were comprised of 100 percent Cabernet Sauvignon, according to the technical data submitted by each winery. (Two of those wines were among the five "Signature" wines.) But Cabernet, by definition, was the most predominant variety across the board.
Merlot
showed up in seven of the wines (with one winery using as much as 15 percent), while
Petit Verdot
was utilized in four wines (with the highest amount being 20 percent in one wine).
Cabernet Franc
appeared in four wines (with 14 percent being the highest amount in one wine).
Malbec
(5 percent) was used once, while a trace amount (0.21 percent) of
Syrah
(not from Spring Mountain but from
Chiles Valley
) was employed in one wine.
Listed alcohol levels ranged from a low of 13.5 percent to 15.4.
Oak regimens ranged with
used
wood comprising from 20 to 66 percent of the mix. The use of French oak was dominant in most wines, with four employing 100 percent new French barrels. Only one wine opted for 100 percent new American oak, while another employed a combination of new (21 percent) and 2-4 year old American wood. All of the "Signature" wines were made with French oak.
The wines ranged in price from $35 to $100.
Panelist John Guilliams, owner and winemaker at
Guilliams Vineyards
, asked rhetorically, whether the "terroir might show better when the fruit isn't so ripe?" But he qualified that statement by stating, "I'm not saying which is better."
However, during the flight, Guilliams singled out the fruit properties of the wines. "Many are displaying pure fruit character," he said.
He added, "At least they're not all the same." To which Charles Smith, owner and winemaker at
Smith-Madrone
, concurred, "(There's) a wide variance in styles."
Craig Becker, winemaker at
Peacock Family
, suggested, "Isn't defining terroir coming to peace with what our climate gives us?"
From the discussion in Stage 2
(Appellation Identity Building)
, the Discovery Panel was able to identify a number of terroir and stylistic commonalities of Spring Mountain Cabernet Sauvignon. Notable was the repeated use of such descriptors as earthy and dusty or
sous bois
-- aromas of the forest floor. Other common descriptors found in many of the wines included brown spice, clove, dark black cherry, black cherry, bright cherry, brandied cherries, blueberry, raspberry, and anise. The use of oak did not dominate the wines, according to the panel, and in fact, most observed that the wood was well-integrated