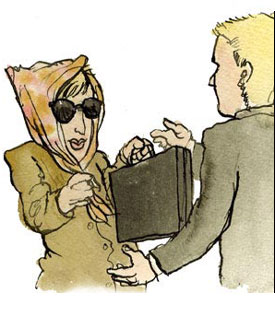 Colombard
Agent Colombard, you are the master of deception. Just about everyone has encountered you at one time, but few know you by name. You have chosen a life of anonymity, keeping your sharp tongue in check and your identity concealed. Many have deployed your consistent and reliable services on the unsuspecting masses of America. Of those who have brought you into their discreet employ, you have made many wealthy. But watch out for the ambitious Chardonnay who would be happy to oust you from your longtime role in the heated turf of the Central Valley.

Appellations Growing Colombard Grapes
Appellations producing the most Colombard wines:
Colombard (aka. French Colombard)

Much of the success of California's bulk white wine production can be attributed to this highly-productive and sometimes underappreciated varietal. At one time, it represented close to 40% of all white grapes under vine in the state. By the early 1980s, there were over 70,000 acres planted with French Colombard. It wasn't until the explosion of Chardonnay in the 1980s and 1990s, that French Colombard lost its position as California's most planted white wine variety. Currently, there is less than 35,000 acres under vine in the 'Golden State'. With the improvement of cold-fermentation techniques in the 1960s and 1970s, Colombard proved it could produce simple wines with fresh floral character and tart citrus acidity in hot climates. The varietal helped establish California, Australia and South Africa as producers of clean, crisp, value-priced, white wines. French Colombard has proven that transplantation of grapes isn't always a one-way street, as its success in the new world led to its increasing use in southern French blends.