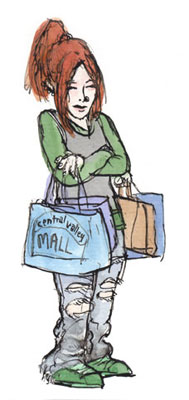 Ruby Cabernet
You may be the King's daughter, but your conduct is anything but stately. Hanging out at the Central Valley Mall and getting baked with your Fresno pals is certainly not behavior becoming a princess. While you may have inherited your father's fruity character, you rebel against the structure of noble life. You don the family title of 'Cabernet' to put on heirs, but you are really nothing more than a raspy wench named Ruby.

Appellations Growing Ruby Cabernet Grapes
Appellations producing the most Ruby Cabernet wines:
| | |
| --- | --- |
| | |
| | |
| | |
| | |
| San Diego County (County Appellation) | |
Ruby Cabernet Grape Details
Ruby Cabernet

Developed for the hot climate of California's San Joaquin Valley, this red wine grape was bred by crossing Cabernet Sauvignon with Carignan. Most of Ruby Cabernet's acreage in California is in the Central Valley, where it improves the quality of the area's basic bulk wine blends providing backbone with its good natural acidity. Despite this workhorse role, Ruby Cabernet does show promise in cooler, coastal areas, though few are willing to allocated such valuable vineyard acreage to the variety. Also grown to a limited degree in Australia, Argentina, Chile and South Africa. The wines made from this grape may not possess the distinguishing flavor and structure of its famous parent, but do manage to exhibit some of the fruity aromatics. Ruby Cabernet is vulnerable to powdery mildew and has been susceptible to both leaf roll and fan leaf virus.