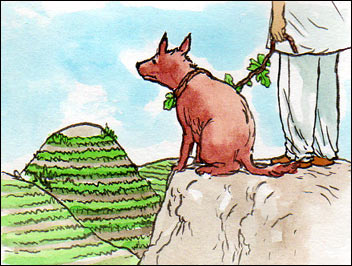 Tinta Cao
It's no surprise many view you as the runt of the Port Wine litter with your small yields, low alcohol levels, and a name that translates to "red dog." You may not be the master of the Douro house, but your personality brings a welcome lightheartedness to your burley Touriga home owners. Your character is like fresh flowers in the rocky and rugged landscape you call home. Tinta Cão, you're certainly Port's best friend.


Varietal Character by Joel Mann
Varietal Commentary from Jansis Robinson, Oxford Companion to Wine
Appellations Growing Tinta Cao Grapes
Appellations producing the most Tinta Cao wines:
Tinta Cão, which translates to "Red Dog," is a grape variety which is rediscovering its bark. This premium black grape in Port production had almost vanished from the vineyards of northern Portugal's Douro Valley, despite its lengthy history there. Tinta Cão's decline was more tied to its reluctance to bear a sizable crop, rather than any issues with its varietal character.

Now, however, Tinta Cão is making a comeback, with acknowledgment of the fact that the variety is amongst the very best of the more than 50 approved Port grapes, though it is not one of the deepest colored. Tinta Cão is also grown in the Dão region of Portugal, where it contributes to the region's sturdy red wines. In California, it has been planted experimentally at UC Davis, and it is increasingly making its way into that state's more traditionally made 'Port' styled wines.