Tassel Ridge Winery: winery information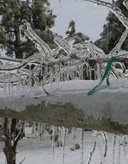 Winemaker: Rhonda Taylor
It may be a surprise that Rhonda Taylor did not start out her career intending to make wine. Growing up in Oskaloosa IA, she graduated from Iowa State with a biology degree and a chemistry background. She then attended Medical Technology at Des Moines Mercy Medical Center for 18 months, and became a licensed medical technologist and went on to become manager of the Pella Regional Hospital lab. Bob Wersen, owner of Tassel Ridge Winery, got acquainted with Rhonda when she became involved with Bob's mother-in-law's medical care. In February 2005, Robert Wersen phoned Rhonda to ask if she would consider becoming Tassel Ridge Winery's assistant wine maker. Rhonda was intrigued as she and husband Rob Taylor had traveled to England and Germany several times and enjoyed tasting different wines. After working at Pella Hospital for 11 ½ years Rhonda had already been considering a change to spend more time with her family. Interested in Bob's suggestion, she prayed, consulted with her family, and in May 2005, phoned Bob to accept his offer. Rhonda began an on the job training program with Iowa State's Director and Extension Enologist Dr. Murli Dharmadhikari's assistance while preparing for the first 2005 harvest. While learning on the job about wine making and the Midwest Grape varieties, Rhonda performed the processing, lab analysis and blending on the juice and/or wine. Rhonda enjoys the step by step process of maturing wine and the control that comes with taking the time to get it into the bottle. Her most exciting wine to date has been Tassel Ridge Winery's Prairie Snow, an iced style wine made with fruit grown 100% in Mahaska County, Iowa. Rhonda recognizes that what she likes in wine may not be what the Tassel Ridge Winery customers enjoy. Her advice: one's taste profile changes over time, so taste several wines from white to red; and dry to sweet. One of her current favorite wines is Tassel Ridge Winery's Prelude. Rhonda says it's a great sit and sip versatile wine that can be combined with anything, winter or summer. Her favorite wines to pair with food are Tassel Ridge Winery's American Chardonnay, and Tassel Ridge Winery's Twilight.
Annual Production: 12,000 cases
Futures
Harvest Club members receive four shipments per year (two bottles per shipment) with choice of either food pairing or sweet selections, along with wine and food pairing recipes and recommendations. Food pairings are great for those that like semi-sweet to dry wines that pair well with food i.e. American Dry Riesling, Twilight, Edelweiss, and Iowa St. Croix. Sweet club selections pair well with or as dessert and include but are not limited to Red, White, & Blue; Oskyfizzante Red, Fruit Stand Cranberry, and Iowa Steuben. Harvest Club shipments are released every March, May, September and November.
Estate Vineyard Acreage
Three vineyards total of 56.4 acres of grapes. In 2008 we harvested 97 tons of grapes. Grape varieties planted: Edelweiss LaCrosse La Crescent St. Pepin Brianna Steuben Sabrevios St. Croix Marchel Foch Frontenac Marquette Corot Noir Noiret
Grape Varieties Planted