Appellations Growing Noiret Grapes
Appellations producing the most Noiret wines: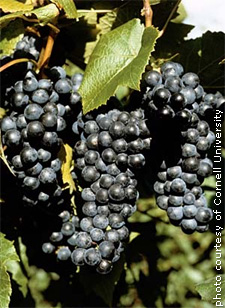 (pronounced "nwahr-ay ") -- a mid-season red wine grape, is a complex interspecific hybrid resulting from a cross made in 1973 between NY65.0467.08 and 'Steuben'. Cornell University officially named and released three new wine grapes during the 31st annual American Society for Enology and Viticulture/Eastern Section Conference and Symposium, held July 9-11, 2006 in Rochester, N.Y. "'Noiret' represents a distinct improvement in the red wine varietal options available to cold-climate grape growers," said Reisch. "Wines are free of the hybrid aromas typical of many other red hybrid grapes. The distinctive red wine is richly colored and has notes of green and black pepper, with raspberry and mint aromas, and a fine tannin structure." Care should be taken to grow 'Noiret' on sites less susceptible to extreme winter temperatures and downy mildew, noted Reisch.