Villicana Winery: winery information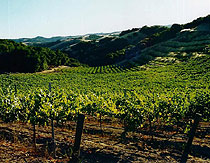 Winemaker: Alex Villicana
Alex Villicana started in the wine business in the cellar and immediately fell in love with the process of turning grapes into wine. He began taking classes at UC Davis to learn more. When offered the opportunity to purchase cabernet sauvignon fruit in 1993 from the famed Tchelistcheff vineyard at HMR, Alex jumped at the chance. That was his first vintage, and its success led Alex to become further enamored with the winemaking process. In a constant quest to continually improve quality, Alex is producing small lots of memorable, powerful wines.
Annual Production: 2,000 cases
Futures
Wine Club program is available. This program automatically ships 6 bottles of New Release wine in the Spring and 6 bottles in the Fall. Club Members benefit with a 20% discount on all purchases. This is a wonderful way to receive wines that don't make it to the Tasting Room.
Estate Vineyard Acreage
We have a small 13-acre vineyard on the desirable Westside of Paso Robles. Our vines benefit greatly from the regions calcareous soil. This limestone soil offers excellent drainage and has the ability to absorb and retain rainwater like a sponge. We believe in limited artificial irrigation, which encourages the vines to search deep to find the naturally stored water. We do not irrigate until after veraison (when the grapes start to soften and change color) and then only sparingly. By water stressing the vines in this manner the vines naturally shed their leaves around the grape cluster opening up the canopy to sunlight and air. The sunlight on the fruit enhances flavor and color and reduces herbaceous characters that may develop.

We also believe in keeping our yields low in an effort to increase the concentration of the fruit. We "drop fruit" several times during the growing season to keep our yields low. Our soil, water management program and our philosophy on thinning the vines leaves us with small clusters of fruit producing highly concentrated flavors and color.
Grape Varieties Planted