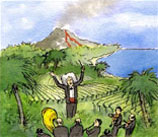 When thinking of wine making regions, the hot, tropical Hawaiian Islands do not spring quickly to mind. Typically, most of the world's grape growing is done in moderate climates, between the 30th and 50th parallels. However, skiing, a seemingly far less likely activity than viticulture, also takes place in Hawaii. Both pursuits are made possible this far south because of the higher elevations of volcanic mountains and ridges. Vignerons are notoriously tenacious and will try to grow grapes pretty much anywhere. Proof of this is found near the equator, where the Aloha State's two wineries – on the islands of Hawaii and Maui – grow Symphony, the only grape raised here for winemaking. In this Pacific paradise, Symphony, a cross between Muscat of Alexandria and Grenache Gris, yields wines that are very fruity, off dry to sweet, and great for quaffing on the beach.

WAWGG Banquet Explores Washington State Terrior
By
Roger King
February 2, 2014
The multiple appellations of Washington will be tasted in a unique banquet dinner at this years Washington Association of Wine Grape Growers Annual Meeting and Trade Show. Nuances of that regional diversity have been paired with the meal being prepared by Chef Dan Carr.  [>] continue

Taking Focus on Appellation
By
Clark Smith
December 9, 2013

Whitehall Lane Winery, A 20 Year Story of Vineyards
By
Roger King
July 15, 2013

Embracing Virginia's Terroir
By
Richard Leahy
June 2, 2013

Shake Ridge Ranch - Gem of the Sierra
By
Roger King
May 16, 2013

Tannat, Vibrant Across the America's
By
Barbara Trigg
May 6, 2013

Welcome Middleburg Virginia AVA
By
Roger King
January 4, 2013

Humboldt County: Is Too Much Terroir Possible?
By
Clark Smith
October 14, 2012