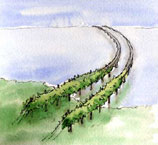 Virginia's Eastern Shore is known more for spectacular beaches than for its viticultural prowess. Currently, there are five local growers, with 70 acres under vine, mostly planted to Riesling, Chardonnay, Merlot, Cabernet Sauvignon and Cabernet Franc. The appellation encompasses Accomack and Northampton counties, in the southern portion of Delmarva Peninsula. Virginia's 70-mile portion of the peninsula is relatively flat and thin, has sandy soils and is heavily influenced by its proximity to the ocean and Chesapeake Bay. Seasons are more moderate than in mainland Virginia, with lower summer daytime temperatures and milder winters. As in the rest of Virginia, definitive decisions about varietal, clonal, and trellis system selections are a work in progress. The future looks positive for this AVA, which has a new winery in development. Bloxom Vineyard's is 90% complete and anticipates opening its doors in May.

WAWGG Banquet Explores Washington State Terrior
By
Roger King
February 2, 2014
The multiple appellations of Washington will be tasted in a unique banquet dinner at this years Washington Association of Wine Grape Growers Annual Meeting and Trade Show. Nuances of that regional diversity have been paired with the meal being prepared by Chef Dan Carr.  [>] continue

Taking Focus on Appellation
By
Clark Smith
December 9, 2013

Whitehall Lane Winery, A 20 Year Story of Vineyards
By
Roger King
July 15, 2013

Embracing Virginia's Terroir
By
Richard Leahy
June 2, 2013

Shake Ridge Ranch - Gem of the Sierra
By
Roger King
May 16, 2013

Tannat, Vibrant Across the America's
By
Barbara Trigg
May 6, 2013

Welcome Middleburg Virginia AVA
By
Roger King
January 4, 2013

Humboldt County: Is Too Much Terroir Possible?
By
Clark Smith
October 14, 2012