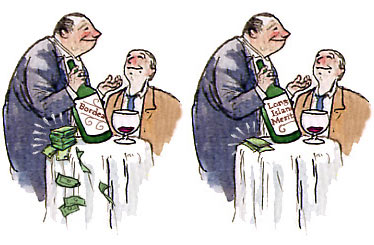 North Fork of Long Island (AVA)
Long Island Whine
Are Long Island wines really over-priced? Or are we looking at them from the wrong perspective?...Compared to wines of similar structure, ambition and distinction from around the world, Long Island's best wines are better values than ever.
by Lenn Thompson
March 16, 2006
---
Just like the best wines we drink, a discussion of wine prices and price-to-value ratios is a complex and nuanced one. There are dozens of factors that drive a winery in setting its wine prices, including land costs, labor costs, market pressures, and supply and demand -- the list is seemingly endless.
The idea of 'value' is even tougher to pin down because it's so subjective and influenced by things like the media, mood and personal perception.
So before we can even tackle the question, "Are Long Island wines over-priced?", there are a few points that need to be made.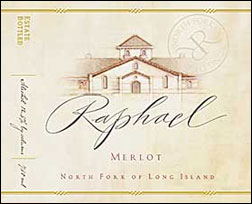 First, wine on
Long Island
varies from winery to winery and year to year. Richard Olsen-Harbich, managing director and winemaker at
Raphael
in Peconic, said it best in an email to me: "As in most areas producing wine, you have good value, you have great wines and you also have poor value and bad wines. And because we are not that large a (wine-producing) area, it gets magnified." In fact, Olsen-Harbich doesn't even like talking about Long Island wine in general terms. It's just too varied at this stage.
Next, when I contacted several winemakers and winery managers in the area, I found that very few customers actually complain about wine prices in winery tasting rooms themselves. "Interestingly enough," Olsen-Harbich noted, "the tasting room provides an overall wine experience that people are typically very satisfied with. The biggest complaints we hear are that we don't have enough white wine -- or that our wine isn't sweet enough."
Wine that isn't "sweet" enough is a topic for another time, but the "overall wine experience" point is an important one. Many people, myself included, are willing to pay more for a bottle of wine if the setting, the friends and the overall experience are memorable.
So now we know that we can't generalize about Long Island wines and that people rarely complain about the prices in tasting rooms -- even if they are almost always higher than at local wine shops. But people
do
complain about Long Island wine prices.
As a wine lover and an admitted Internet addict, I'm active on a few wine discussion sites and through my own website I've met and emailed with wine lovers the world over. Many of the people I meet haven't even tried Long Island wine -- it's too hard, even impossible, for them to get. And sadly, many of those who have tried Long Island wines have tasted wines on the lower end of the quality spectrum.
For instance, someone commented recently, "I can buy wines from Chile that are much better than the stuff I've tasted from Long Island, and they are a much better value. Long Island wines are just over-priced for what you get."
I hear this kind of comment all the time. And it's frustrating.
How can one best respond to this criticism? Trent Preszler, Chief Operating Officer
Bedell Cellars
at in Cutchogue, New York has a great answer. "Whenever someone says something to me about our prices being too high, I simply tell them it is not true. It is a myth promulgated by consumer misinformation and a lack of understanding about the broader wine market. Can you name one premium boutique (winery) in
Napa Valley
making fewer than 10,000 cases a year that sells a world-class Bordeaux blend for around $20-30, like us? For equal quality comparably produced (small-scale farm winery) American Bordeaux-style reds out of Napa or
Washington
, you'd be paying at least double or triple, if not five times what we charge."
But can Long Island wines compete with these top wines from Napa and other respected wine regions? I certainly think so and Charles Massoud,
Paumanok Vineyards
' co-owner and winemaker, has pulled together the blind tastings against these world-class wines to prove it.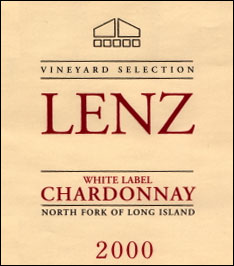 "In a blind tasting with Dr. Harvey Passes, three
Chardonnay
s from Long Island (
The Lenz Winery
, Bedell, and Paumanok Vineyards) were tasted blind with a fourth wine, which when revealed was Puligny Montrachet Champs Canets 2002," Massoud said. "Eric (Fry, winemaker at Lenz), Kip (Bedell, winemaker at Bedell Cellars), Dr. Passes and I could not tell which was which. Ours sold for under $20 while the Puligny sold for between $55 and $75, depending on the store. When you compare apples to apples, our prices are a bargain." This is just one example. Other wineries have conducted similar tastings with similar results.
Preszler concurs. "When compared with other small-scale viticulture efforts around the world, there is no question that the best Long Island wines offer the best value for the money."
Maybe that's the point -- the best Long Island wines are the real values. Of course if you're not the type of person who typically spends $20-30 on a bottle of wine, you may find the lower end wines over-priced. If you are used to paying less than ten dollars for a bottle of wine from Australia, Chile, Argentina and other warm growing regions, some Long Island wines can certainly seem expensive. "Long Island cannot compete with cheap wines from hot climates. But if you are looking for wines with character, the value is there," said Roman Roth, winemaker and general manager of
Wölffer Estate Vineyard
in Sagaponack.
So what has to happen to change the perception of all Long Island wines as expensive and over-priced? People need to put aside their preconceived notions and actually taste the wines before passing judgement -- and taste the right wines. It would be unfair to base your opinion of California wines solely on Beringer White Zinfandel, and serious wine drinkers shouldn't base their impressions of Long Island wine solely on one or two wines either. That sort of generalization isn't useful in any circumstance.
Robin Meredith, formerly of
Broadfields Wine Cellars
, summed up the value issue in his wine club newsletter last summer: "there will always be boatloads of solid $10 wines coming from places like Spain, Australia and Southern Italy, but using those wines as your benchmark for value means you will never taste a Barolo from northern Italy, a Côte Rôtie, Hermitage or Chateauneuf-du-Pape from the Rhone Valley or a
Pinot Noir
from just about anywhere. Compared to wines of similar structure, ambition and distinction from around the world, Long Island's best wines (
Merlot
,
Print this article  |  Email this article  |  More about North Fork of Long Island  |  More from Lenn Thompson