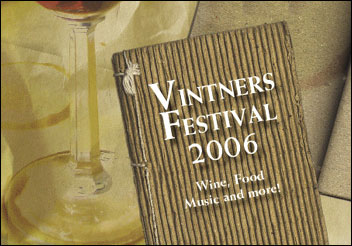 Santa Cruz Mountains' Vintner's Festival 2006 is a four day showcase of the region's best wine and food.
...now more than 50 wineries including many of the small wineries popping up in the hard to find crevasses of this large mountain appellation will be in attendance.
by Laura Ness
May 31, 2006
---
The buzz is in the air, as wineries in the
Santa Cruz Mountains
and surrounding regions are in a flurry of activity as they prepare for the annual
Vintner's Festival
. The festival was developed to give small wineries without tasting rooms the opportunity to share their wares with the public at local restaurants and shops.<!> The word spread and now more than 50 wineries including many of the small wineries popping up in the hard to find crevasses of this large mountain appellation will be in attendance. Now in its 17th year, this event lives up to its billing as a "A Taste of the Mountains".
The festivities will be held over two consecutive weekends, beginning this weekend -- June 3rd and 4th. This Saturday and Sunday, 34 wineries and restaurants in
Santa Clara
and San Mateo Counties will host the event. The following weekend (June 10th and 11th) will feature 42 wineries and restaurants in
Santa Cruz County
.
So grab a glass (they are included in the $30 advance and $35 at the door ticket price of the event) and follow me on a virtual tour of the must go to wineries and restaurants featured at the event.
Weekend 1: Day One
I'm starting at 11:00, on Saturday (the official starting time of the event) with a French country picnic at
Chaine D'Or Vineyards
in Woodside. Of course, the picnic will be complimented with a sample of wine from this little treasure of a winery. Chaine D'or located on the eastern slopes and at the head of the Santa Cruz Mountains, only produces 400 cases a year, including some great hand crafted
Chardonnay
and
Cabernet Sauvignon
.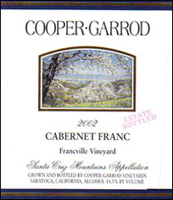 While I am on the 'east side', I am going to 'step back in time' at
Cooper-Garrod Estate Vineyards
. This quaint and tranquil winery, perched above the town of Saratoga, on the edge of Silicon Valley has a long history tied to the land. The Garrod family traces their agricultural roots to 1893, and has been growing grapes on the property since 1972. I plan on tasting their fine wines in the old fruit packing house, and say hey (or is that hay?) to the horses in the stables. Attractions include an art show and light appetizers featuring a bread and cheese selection from Columbo Breads and Armanino Foods of Distinction. If you are like me, plan on a sample of their lovely raspberry filled
Cabernet Franc
; a wine styled after the great easy to drink reds of the Central Loire Valley's Chinon AOC . This day is truly a European delight so far – a French picnic followed by cheese and Cabernet Franc. Ooh la la!
Well, I am already half way to gourmet heaven. Next stop is downtown Saratoga, where I'll be heading to Viaggio Restaurant, located at 14550 Big Basin Way.
Cinnabar
,
Clos Tita
,
Equinox
, and
Ridge
will all be pouring here and the restaurant will be serving up great appetizers. With this line-up of wines and the comfortable settings of Viaggio, I am tempted to slip off my shoes, find a corner and curl up to culinary bliss. But I am a wine writer, afterall, and must trek on.
Thankfully the trek is only across the street to Sent Sovi. Another impressive line-up of wineries await at this posh eatery, including
Michael Martella Wines
,
Roudon Smith
, Pleasant Valley Vineyards and
Cordon Creek
. I can't decide; do I stay here for the evening and enjoy a fabulous gourmet experience or do I try and catch a sample of
Mount Eden Vineyards
wine at The Basin, before the festivities wrap up for the day at 5:00? The restaurant's barbequed oysters are awfully tempting. Either way, it will make a fabulous ending to a glorious first day.
Weekend 1: Day Two
It's day two and I am moving on to downtown Los Gatos. Beginning at 12:00, the party starts at the Hotel Los Gatos with fine art and fine wineries such as Hunter Hill Vineyard & Winery,
Alfaro Estate
and
Martin Alfaro Wines
.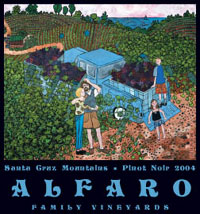 After a bit of sampling, I'm off to Los Gatos' Café Rouge to check out two artisan producers of some of the appellation's best Chardonnay and Pinot Noir. Both
Muccigrosso
and
Beauregard Vineyards
will be here serving up their great wines with appetizers, while live jazz plays in the background. I'm staying for lunch, so I can build up my strength for the afternoon's events.
Next, I am heading on up Highway 17 to Nonno's Restaurant in Redwood Estates to sample the wares of fine wineries including Domenico, Heart O' The Mountain, and
Glenwood Oaks
. The wineries are a combination of new and old and so are the wines as Domenico will be serving up its 2004 releases, while the
Santa Cruz Mountain Vineyard
(SCMV) will be decanting some library wines. This weekend is proving to be wine tasting ecstasy.
And to cap off a weekend of fine wine, I can think of nothing better than ending my day with a visit to
Burrell School Winery
on Summit Road. It is open both weekends and is featuring wine and cheese pairings featuring delights from cheese monger Tabitha Stroup, live music, gourmet chocolates and more including a "Farmer's Market in the Vineyard".
I may just need to set up camp here, so I can be first in line for the second weekend of activities.
Weekend 2: Day One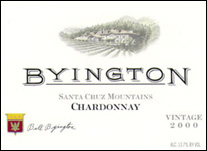 I'm starting the second weekend of events at
Byington Winery and Vineyard
in Los Gatos. This magnificent chateau overlooking th