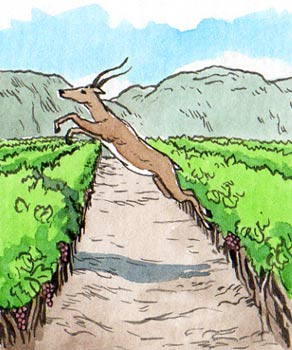 Domaine Combret becomes Antelope Ridge

"My wines before were complex but you could say they were like rough diamonds; and now the diamonds are shaped...That's the whole idea with Antelope Ridge. With rebranding, a new style has to come with it. For the better."

~ Olivier Combret


by John Schreiner
August 21, 2006
---
Olivier Combret, the Okanagan's first French winemaker, has ditched his family name, rechristening 12-year-old
Domaine Combret
as
Antelope Ridge Estate Winery
.
His decision to rebrand the Oliver-area winery caught most of his peers by surprise, including grape growers Don and Bonnie Bradley, who are developing a winery on a nearby vineyard. <!>Earlier this year, they announced plans to call their winery Antelope Brush (after an indigenous plant.) A letter from Combret's lawyer quickly advised them that their neighbour already had registered Antelope and Antelope Ridge.
One reason for the name change is to eliminate confusion with another British Columbia winery,
Domaine de Chaberton
in Langley. The Langley winery was opened in 1991 by another French-born vintner, Claude Violet, who recycled the name of his family's old farm in the south of France.
Over the years, the two wineries frequently received phone calls and orders meant for the other producer. Combret noted that at many public tastings, where the wineries found themselves placed side by side, consumers often had difficulty remembering whose wines they had sampled.
"We have to remember that Canada is not a traditional wine country," Combret says. "The people have absolutely no clue as to what the word, Domaine, means. In 2002, I said, that's it – we've got to do something here. I decided to change the name. Domaine Combret means the house, the estate, of Combret, which is my family name. In 2002, I decided to proceed to trademark Antelope Ridge, and also Antelope."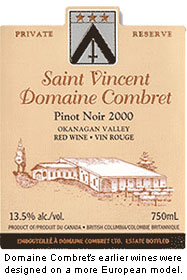 Combret has taken four years to roll out the new name because he has also been changing the style of his wines, beginning with the 2002 vintage. The three Antelope Ridges just being released (after focus group tastings earlier in the year) are a 2002
Cabernet Franc
, a 2004
Cabernet Sauvignon
and a 2004 Meritage blend called Equilibrium.
In style, the wines show much more of the richness and intensity of New World wines, in contrast with the leaner Old World style of earlier Combret wines.
The Combret family made wine in the south of France for 10 generations, until they sold their winery to move to the
Okanagan
in 1992. Robert Combret, Oliver's father, had spent the summer of 1958 in the Okanagan while completing a master's thesis in agriculture. There was not much viticulture at the time but the elder Combret was struck by the potential.
The family bought a property almost 80 acres in size on the so-called Golden Mile. The name refers to a stretch of east- and southeast-facing slopes running more like 10 miles in length along the Okanagan Valley, south of Oliver. The Combret site included 15 acres of producing vines (Cabernet Franc,
Chardonnay
and
Riesling
) and so much opportunity for more that it is not yet fully planted. Currently, 42 acres are producing, mostly Bordeaux varieties.
When the family came to Canada, Olivier, was a freshly minted graduate from the wine school in Montpellier. While his parents dealt with the vineyard and with importing more vines, Olivier designed the Okanagan's first gravity-flow winery. His father said later that it was "a mere technicality" to make wine in the building, perched on a hillside with a panoramic Okanagan Valley view from the tasting room.
As a general style, the Domaine Combret wines were bone dry and built to age. "If this wine business in B.C. wants to survive, we have to build inventory," Olivier Combret said in an interview three years ago. "We have to be able to offer consumers old whites and old reds."
He certainly meant what he said. In 2004, as an example, the winery released a 1994 Riesling, a wine with a full-on blast of petrol that only a true Riesling aficionado would understand.
This spring, however, Combret replaced all his Riesling vines with Cabernet Sauvignon, and not just because he believes he has good terroir for Cabernet Sauvignon.
"The market is not as receptive as I thought for older Rieslings," he recognizes now. "There are not many that appreciate older Rieslings because they do not understand them. Most people see Riesling as a candy fruity wine that should be a year or two old. Now when you present a wine that is 10 years old or more, there is a completely different flavour profile, and it is not everybody's cup of tea."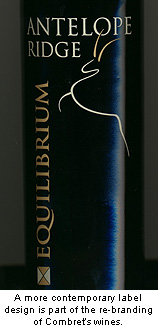 This is but one of the substantial changes being made as Domaine Combret is transformed into Antelope Ridge.
"My wines used to show way bigger tannins," Combret says of his red wines. "I worked on the tannins to get them much softer, without losing the complexity of the wine. I even tried bringing out more fruit. I think I achieved what I wanted to achieve."
The style change, he says, also reflects the experience he has accumulated since making his first Okanagan vintage in 1993. "It is fine-tuning," he says. "Let's face it. I am only 35. When you are 22 years old, you don't fine tune the way you do when you are older."
The Chardonnay also is getting a work over for the new label. The classic Combret style – which won the first Chardonnay du Monde award ever for a Canadian Chardonnay – has always been somewhere between a crisp Chablis and a mature Meursault.
"Definitely [I will still make] a Meursault style like I have been doing with my Chardonnay St. Vincent, but I am working more on increasing the fatness of the wine. Trying to increase the nuttiness. We are known for Chardonnay but I believe there is always room for improvement."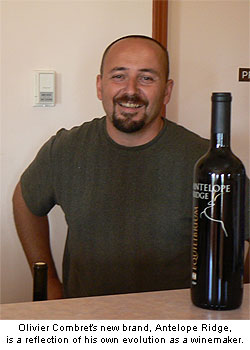 The change in style includes a change in barrels. The winery has moved away from French oak and has begun to use Appalachian oak barrels, coopered by a barrel maker in Oliver. Combret has been experimenting with those barrels since 1999.
"The tannins of the Appalachian oak are not as weak as the French oak tannins," Combret explains. "To stand against my wines, the tannins have to be strong, but not as coarse and strong as the regular American oak. The Appalachian oak does not spoil the complexity of my wines. It's a good match to provide the finesse I want."
The winery, which produces about 5,000 cases a year, will introduce the Antelope Ridge wines gradually as the Domaine Combret wines sell out. Combret hopes to create as much of a stir with the new wines as he has with the name change.
"My wines before were complex but you can say they were like rough diamonds; and now the diamonds are shaped," he says. "That's the whole idea with Antelope Ridge. With rebranding, a new style has to come with it. For the better."
The following are my reviews of Antelope Ridge's initial r