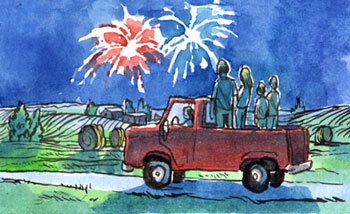 Celebrating America's First Appellation: An interview with Tony Kooyumjian of Augusta Winery
"When they chose Augusta [to be America's first officially recognized appellation], they chose it the way it was supposed to be chosen — unique soil, unique microclimate, unique history."


by Tim Pingelton
September 25, 2006
---
<!>
Tim Pingelton (TP):
Augusta has an important place in the history of the American appellation system. Can you elaborate for our readers?
Tony Kooyumjian (TK):
Most people are not aware that Augusta was the first appellation. Of course, before the first appellation was chosen, everyone wanted to be first. Once Augusta was chosen, the next few came really fast.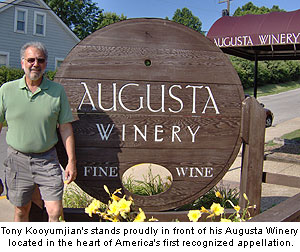 They [the Tax and Trade Bureau, formerly the Bureau of Alcohol, Tobacco, and Firearms] stuck to their guns when they chose Augusta. They said it has to be an area that is unique. It was correctly chosen. When you go back and take a look at the model that they used, and you take a look at the Bordeaux region, for example, what really counts is not Bordeaux but the Médoc area, the Pauillac area, or St Émilion. And St Émilion is even broken down into sections. So, when they chose Augusta, they chose it the way it was supposed to be chosen—unique soil, unique microclimate, unique history.
When you take a look at
Napa
and the way it was originally established, it was way too big. Since then, as you know, it has been broken down into sub-appellations. And the sub-appellations are more the way it should be.
TP:
Have there been any impediments to marketing the distinct character of Augusta wines to the public?
TK:
It is distressing that some super large marketing firms have their wines in every store, and they are mediocre, watered-down wines that have been designed, if you will, to hit a certain palate profile. These firms make it almost impossible for small wineries to break through and get shelf space.
TP:
That's a problem in many regions around North America. It is often the responsibility of the small producers to create wines that reflect the terroir character of the region; often in the face of mass marketed wines. Can you elaborate on the distinctive terroir of Augusta?
TK:
Well, have I told you about how this area started?
TP:
I know about the great flood in the 1870s...
TK:
It starts a long time before that. To fully understand the terroir in this area, you have to go back 10,000 years.
A continental glacier came through this area and followed the
Missouri
River Valley as far south as St. Louis. As most glaciers do, it brought rocks and dirt and debris with them, and also a lot of alluvial soil. As the glacier receded, fortunately for us, this light alluvial soil and sand from the river bed was blown by the wind and left up on the rolling hills in Augusta. As you get further away from the river, this alluvial soil gets thinner and thinner.
TP:
How do your vineyards fit into this picture?
TK:
We farmed the land down by the river and found that the soil there was too rich for grape growing. You would spend all your time fighting over-vigorous vines. Early grape-growers in this area would plant
Norton
, a grape I am very fond of, and they would dismiss the wine as being too vegetative. That was because they would have rows with wild canopies. The vines were way more vigorous than what you'd want to have in the vineyard.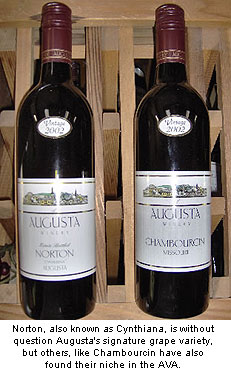 All our vineyards right now in Augusta are on the north side of Highway 94. There the "glacier dust soils" taper off from about a foot down to 3 or 4 inches. Most vineyards in the area face south. Further away from the river, you get into a silt-loam soil, what is known as Menfro.
I own about 200 acres, and of that, there are about 40 acres that I would consider to be suitable for planting.
TP:
You mention the historic importance of Norton. While it may have had its early problems, both you and I are fans of the grape. What other grapes in this area do you think are under-represented or deserve more merit?
TK:
My second favorite is
Vignoles
. We do a tasting every other year in Paris, France. When I first went there, I took 5 or 6 wines. Now I take only Norton and Vignoles. Vignoles doesn't meet any other flavor profile. It is a little bit like
Viognier
, a little bit like
Gewürztraminer
, a little bit like
Riesling
; but it's different from all of those.
I also like the
Chambourcin
a lot. The
Chardonel
produces a good wine. We do two different styles. We do a barrel-fermented one with sur lie aging, and we produce a tank-fermented one that expresses more of the fruit flavor with more crispness.
I should also mention
Seyval Blanc
. When it's grown correctly, it tastes a lot like New Zealand
Sauvignon Blanc
. I have established a clientele that loves that particular grape, and I've learned to work with it.
TP:
As you suggest, the appellation has made some wise grape cultivar selections. What are some of the other positive things going on in Augusta as far as viticulture and winemaking are concerned?
TK:
In the Augusta appellation, there's a big resurgence to improve vineyards and to make the public more aware of what we're doing. I or one of my staff go to every tasting possible. I don't really feel that I compete with the other wineries in the appellation because we all know that we need to get the word out that there is something special happening in this area.
TP:
I thanked Tony, and we agreed to chat again soon. I looked at the map to find the best route to a nearby winery and noticed that Augusta looks like it was indeed pushed by a southward glacier. The Missouri River dips south around Augusta. It's hard to believe such incredible forces ended up creating such delicate wines.
~ Tim Pingelton, Regional Correspondent - Missouri
To comment on Tim Pingelton's writings and thoughts, contact him at
t.pinge