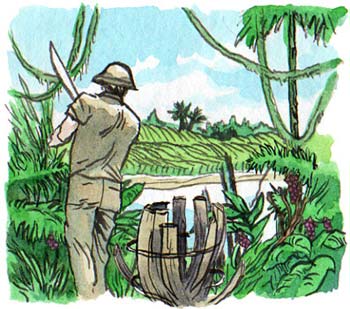 Annette Hoff on Achieving Monterey's Potential
"We will definitely see more AVAs established in the future, and this is a good thing, as there will be more for those interested in wine to 'sink their teeth into' when it comes to Monterey."
by Laurie Daniel
September 20, 2006
---
<!>
Laurie Daniel (LD):
You make wine from various locations throughout the Monterey AVA. Do you find some common terroir throughout the AVA, or is it simply too big to be meaningful?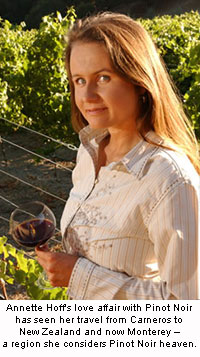 Annette Hoff (AH):
Every part of the
Monterey
AVA is influenced by the proximity to the Pacific Ocean. The cooling afternoon ocean breezes and fog affect all vineyards, so this is what ties the AVA together. Otherwise, I have trouble with applying the concept of terroir to large AVAs such as Monterey. There tend to be commonalities between vineyards in small regions or microclimates. Within the AVA itself, there are far too many differences in soil types, soil depths, elevation, water quality, exposure, vineyard management techniques, clones and rootstocks, etc., to draw too many definitive conclusions about terroir.
LD:
Much of the AVA has been carved up into smaller appellations, like the Santa Lucia Highlands and Carmel Valley. Are there still some areas that should be delineated as smaller AVAs?
AH:
Yes, I believe smaller AVAs will be and should be established in Monterey County in the future. As more vineyards are planted in new areas, as current vineyards become established and as we get more experience working with the fruit from those vineyards, you'll see many smaller AVAs appear.
AVA designations in Monterey County in general are still a work in progress because there is so much yet to learn. There is a vast array of microclimates and geographical factors in the region. Combine that with the fact that Monterey County is so big, and you can understand why there is still a lot of work to be done in identifying unique areas. We will definitely see more AVAs established in the future, and this is a good thing, as there will be more for those interested in wine to "sink their teeth into" when it comes to Monterey.
LD:
Are there some parts of the Monterey AVA that come to mind at this point?
AH:
Yes, Chualar Canyon comes to mind. Chualar Canyon is a small region in the northeastern Salinas Valley. There are a number of vineyards planted there, and it is a unique place. It is in the foothills of the Gavilans and consists mostly of decomposed granite. It is hilly, is elevated above the valley floor, protected from the winds and has great sun exposure, but because it is so far north it doesn't get very hot. We source fruit from a 10-acre vineyard there, and it is distinctive in that both the Pinot Noir and
Chardonnay
display more minerality than one might get elsewhere in the region.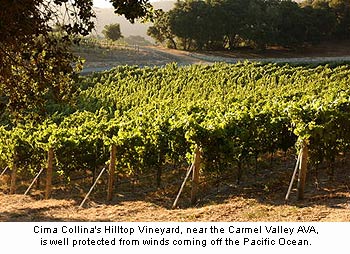 There are also some projects going on in the little valleys on the north side of the Los Laureles range, which is north of Carmel Valley Road, that might warrant their own AVAs in the future. Also, something will probably need to be done with Carmel Valley, because there are so many new little vineyards in the lower Carmel Valley, many of which don't fit into either the Monterey AVA or the Carmel Valley AVA at this point.
LD:
Is there a signature wine from the AVA?
AH:
Chardonnay, hands down. I was very jaded with Chardonnay by the time I came down here and, frankly, really had no idea of what Monterey Chardonnay could be. While at
Estancia
, I got an opportunity to make a lot of Chardonnay from various parts of the Salinas Valley and got to try many different winemaking techniques as a result. I tried barrel fermentations in a variety of barrels (both American and French oak from many different coopers), tank fermentations, experimenting with different yeasts, acidity levels, ripeness levels, etc. In the end, no matter what I did with the wines, there was a purity of character that always came through -- crisp acidity, bright citrus and often stone fruit flavors and aromas. Most importantly, the wines consistently expressed the same characters year after year.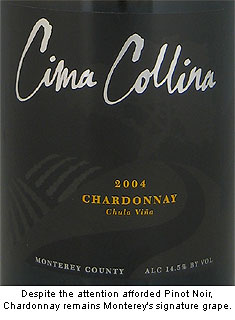 LD:
It's interesting that you would say Chardonnay is the signature wine, because it seems to me that Pinot Noir, especially from the Santa Lucia Highlands, is getting most of the attention these days. Why is that?
AH:
Yes, the Santa Lucia Highlands AVA is getting a lot of attention and justly so. But the establishment of quality Pinot Noir in Monterey County has only just begun, and if you asked me this same question in 10 years, I would probably be hard-pressed to choose between Pinot and Chardonnay. Today, though, if you were to ask anyone "on the ground" here, especially anyone who has been involved in the industry for a length of time, I'm sure they would say "Chardonnay" as well, because it is the backbone of the industry here. More Chardonnay is grown here than anything else.
That's probably because it's relatively easy to manage -- much more so than Pinot. It is incredibly consistent from year to year, and a viticulturist can leave a pretty good crop on the vine and still get good flavor and character from it. There is Chardonnay from Monterey that has been recognized consistently over the years: Diamond T, Sleepy Hollow, Mer Soleil, Double L, Pinnacles Vineyard, for instance. Most of the Chardonnay that is planted here, though, goes to big blends, which is fine except that the distinction of where that Chardonnay came from is often lost in the blending. That's the reason someone outside of the region might not recognize Monterey immediately as a distinctive Chardonnay region, which is too bad. We tend to be classified as "Central Coast," which is such a broad and vague term that it offers no distinction.
LD:
Are there some characteristics of Monterey wines that are readily identifiable, characteristics that make you say, "Ah, that's a Monterey wine"?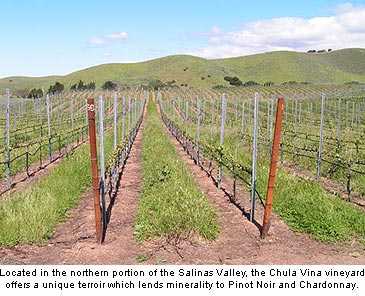 AH:
That's a difficult question to answer. As I mentioned earlier, Monterey Chardonnay is well-defined and consistent. Overall, we make wines here that are higher in acidity than most California wines, but in terms of style or character, I think the jury is still out. With that said, I think Pinot Noir from Monterey is becoming more defined. Monterey lends itself to subtlety and complexity in Pinot -- we tend to get more subdued combinations of herbal/mineral/fruit characters. These aren't bold, fruit-forward wines; they are wines t