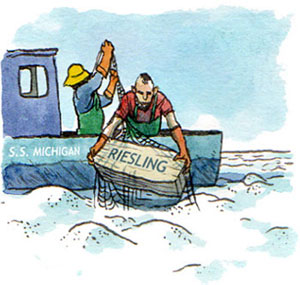 Riesling Rebirth: a new beginning in North America for a noble grape
One of the world's greatest grape varieties would be a huge success with American wine consumers, if only winemakers had the confidence to plant more of it.
by Dan Berger
November 8, 2006
---
Around the turn of the last century, the auction houses in London were as active in selling wine as today. And the most in-demand wines of the day were not exalted Bordeaux, esoteric Burgundy, or even dessert wines like Château d'Yquem.
No, 100 years ago, the hottest wines in the eyes of collectors were from the coolest growing region in Europe, where the sun shines on vines at such a steep angle that the best vineyards face south. Germany's prized grape, Riesling, made those esteemed wines,<!> and the surprise is that the wines were not only Trockenbeerenauslese, the ultrasweet wines that have long been the target of wealthy collectors.
Discover
Rieslings
with distinct regional character

from across the continent.
Order direct from the wineries here!
Some of the most expensive wines were dry. Some were off-dry. Some were only slightly sweet.
Hock, as it was called, was a wine rated as incomparable. Prices for them were high. Beyond that, each of Germany's wine regions yielded a distinctly different aromatic taste sensation, proving conclusively in that low-tech era that the site on which the grapes grew dictated as much, if not more of the character of the resulting wine than did the variety.
Of the thousands of grape varieties around the world that are used to make table wines, only a dozen or more are considered classics. Some believe
Riesling
to be the greatest grape of all.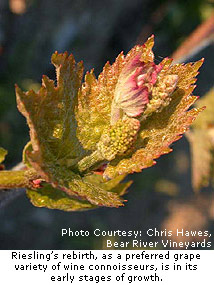 But when a wine goes out of favor with the masses, often the grape that makes it wanes and withers and soon is abandoned. Since Riesling hasn't been on the radar screen of most American wine consumers since perhaps the early 1970s, many Cabernet-aholics, Zin-freaks, and Pinot-philes might consider it quaint. And thus many growers have all but forsaken it, despite critical acclaim from a few esotericists who cling to the variety.
But sales figures don't lie. In various assessments, from anecdotal evidence to supermarket scanner data, it is clear that, despite no klieg-light attention from the glossy magazines and no stratospheric scores from singular wine critics, Riesling never really died, and it is now quickly racing back into many Americans' consciousness.
U.S. supermarket scanner data shows that U.S. Riesling sales have shot up 172% in 2005 over the prior year.
Still, Riesling's rise from a smallish base makes its rebirth a rather surreptitious one. Some supposedly savvy wine people don't know of Riesling's resurgence. They still think it is a quaint notion that anyone who calls himself a wine lover would actually consume Riesling. But the story, as Lewis Carroll might say, gets curiouser and curiouser.
In 2003, as I was going gaga over the 2001 German Rieslings and writing nirvana-esque commentaries about them, I began to do a little self-serving research. I went into and called literally two dozen wine shops to see what Rieslings they carried. I was looking to buy quality wines cheaply since most retailers had ordered them when the euro was standing at about 88 cents, and by the time I was looking, the Euro was already well over $1.10. I was bargain shopping, assuming (rightly) that few would have been re-priced upward.
And what I learned was very strange and nothing like anything I had ever encountered. Few wine shops had any Rieslings at all! Despite the fact that the 2001 German vintage was widely known to be absolutely classic, most shop personnel said they had no call for Riesling, and they were proud of their high-end
Chardonnays
and
Viogniers
. From the sound of it, Riesling had died sans obituary.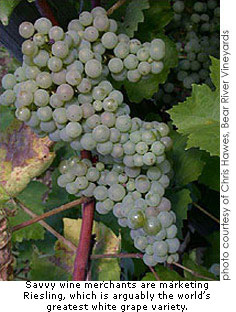 Yet at a handful of shops -- no more than six or seven -- operated by savvier people, Riesling sales were going nuts. In general, these were large wine shops with savvy international buyers, with more of them in the San Francisco Bay Area and Los Angeles's more upscale neighborhoods and far fewer in the Midwest. Even New York City's wine shops seemed to be a Riesling desert. White Burgundy was, however, still in profusion.
The fact that Riesling sales are rising is a surprise to those not selling it, but some are, in fact, catching on belatedly.
One key reason that sales are moving forward is that Germany followed the exceptional 2001 vintage with superb quality in 2002, 2004, and 2005. Even the '03 wines were tolerable. Meanwhile, Australian Riesling sales in the United States rose between 2001 and 2005 from 1,900 cases to 57,000 cases. And a key point here is that this is not simply a sweet, quaffing wine: about 95% of all Australian Riesling is bone dry!
All this might seem to be great news for wineries and growers in California's cooler regions. All they have to do is focus on Riesling and ...
But wait. Over the last 17 years, Riesling acreage in California has shrunk from 2,400 acres to 1,650 acres. In their quest to stick to the tried and true, California wine makers have shrunk their options down to the standard varieties. Riesling wasn't included.
Indeed, it seems that even though the evidence is all there that Americans really like Riesling and will buy it, the marketing departments of major wine companies do not want to know about this trend because they are currently convincing themselves that the next fad wine will be
Pinot Noir
. Pinot Passion is currently occupying growers and marketing departments pretty much the same way
Merlot
Mania captivated everyone in the early 1990s.
This me-too, follow-the-leader approach has pushed California's Pinot Noir plantings well past the practical level. I view the amount of Pinot now in the ground (23,323 acres in 2005 compared with 8,264 in 1996) as an absurd over-reaction to the film Sideways which elevated Pinot to heights no one ever imagined.

Now California is saddled with far more Merlot (more than 52,000 acres of it) than it can ever sell. And Pinot Noir is the next grape that surely will be in such huge surplus that many wineries will be figuratively choking on it. Worse is that much of the Pinot Noir recently planted is in exactly the same cool-climate locations that Riesling would do rather well in.
And yet, Riesling's potential is huge. One of the finest I ever tasted came from grapes grown in the Ballard Canyon area of
Print this article  |  Email this article  |  More about America  |  More from Dan Berger