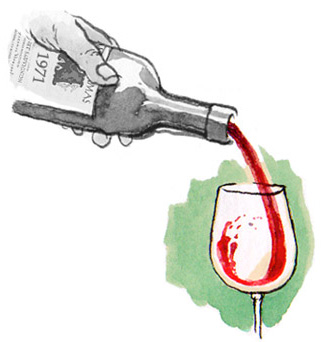 Mount Veeder ~ Napa Valley (AVA)
Wines from Another Era: an interview with Mayacamas Vineyards' Bob Travers
"Aging doesn't guarantee quality, but if you have a good vineyard, it's best to take it slow."
by Alan Goldfarb
November 15, 2006
---
<!>
Alan Goldfarb (AG):
You make some of the longest lived -- if not the longest lived wines in the Napa Valley, and by extension, some of the lowest alcohol wines. How can you stay in business in the current marketplace which demands fruit forward, high-alcohol wines?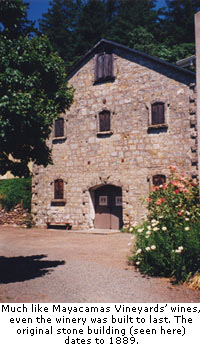 Bob Travers (BT):
It's definitely taken over as a majority opinion. But there are some traditionalists like me. Even though the wines take longer to mature, it doesn't take too many people to buy them in order to make them profitable.
Also, I don't go for that super-ripening stuff, so I don't have to wait as long for the grapes to mature.
AG:
What is it that you favor about the style of your wines?
BT:
It's easier to identify what they're made from (the variety). It's harder with those high-alcohol wines. I love raspberry jam and prune juice, but I don't like it in my wine. And they don't go as well with food. The highest and best use of wine is with food. When they finally get there (mature), they have a depth and character that high-alcohol wines don't have.
AG:
You also don't release your Cabernets until five years after the vintage. The Pinots are released after four and the Chardonnays not until they have aged for 2 ½ years after the vintage. How can you afford to do that?
BT:
Yes, mine are the last ones to be released in the Napa Valley, as far I know. Over the years I've slowly delayed the release a few months, and a few more months.
I've gone into a library re-release program. I've just released the '92 Cabernet (at $125 a bottle as compared to $30 when it was first released in '97). I take the ones that are most ready.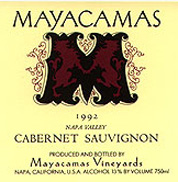 AG:
How much do you hold back?
BT:
Usually about 15 percent; a couple hundred cases.
AG:
How do you calculate the price?
BT:
I put the price relative to our other wines. I have a memory bank of where it belongs (in the spectrum of price).
AG:
What is it about your vineyard and Mount Veeder?
BT:
Most people think it's the slopes and soils, but micro-climate is a factor. There's quite a range in elevation up here -- 400-to-2,677 feet. There's no question that the higher you get on the mountain, the rockier, the shallower, and the less fertile the soils become. We average less than a ton per acre. That's why I'm up here. That's why I picked this spot. (His vineyard ranges from 1,800-to-2,400 feet in elevation.)
AG:
Are there any plans to expand the vineyard, the winery or the case production?
BT:
No. Forty years later, I'm still trying it (this way).
AG:
What and when were the last new pieces of equipment you bought?
BT:
I upgrade occasionally. I got a new must-pump five years ago and a stemmer-crusher 10 years ago. It's not a rapid process, but things do slowly get replaced.
AG:
How much new oak do you generally employ?
BT:
Ten percent each year. For
Cabernet
,
Merlot
, and
Pinot
, when they're 5 years old, I shave out the barrels. I don't shave
Chardonnay
barrels, which are more sensitive to oxidation. I use some Yugoslavian oak (20 percent), American (15), and the rest is French.
AG:
Your wines also were known as being very tannic. You've seemed to tone that down in recent years. Is that right?
BT:
It's pretty much been the same all along. I don't fine red wines. I leave the skins on for 10-12 days. With Pinot, it's a little less because it ages better. My techniques haven't changed much. Other people are making more tannic wines with less acidity.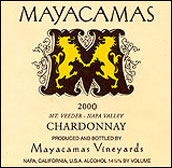 AG:
Do you think your type of wine will soon make a comeback?
BT:
I do see a trend, particularly in Chardonnay. People now are making non-ML (malolactic)
Chardonnays
without much oak. They take a long time to mature, and they're higher in acid.
AG:
Why are those wines coming into favor now when you've been making them all along?
BT:
Producers realize that if they've got a good vineyard, the vineyard can do all the talking. If you don't do too many winery techniques, you can let the grapes be the master. These techniques reduce the vineyard effect. If you've got a good vineyard, it could say more.
AG:
Why were you attracted to those types of wines in the first place?
BT:
It always has been attractive to me. It's based on their drinkability with food. It's always been my belief, and my findings have confirmed this, that the wines I like the best are also the ones that take substantially longer to age and mature. If they do live a long time, they develop different characteristics. Aging doesn't guarantee quality, but if you have a good vineyard, its best to take it slow.
AG:
Is that a metaphor for Bob Travers?
BT:
I think you're right.
AG:
Are you maturing well?
BT:
Probably not as well as some of my wines.
AG:
How much longer will we see Bob Travers making wine?
BT:
God, I hope another 38-40 years. I suppose that's pushing my luck. I've got one son Matt, who's 37, married with a son and works here fulltime. And another son, who is 35, and he's taking over most of the vineyard management.
AG:
Do you think you're a Neanderthal?