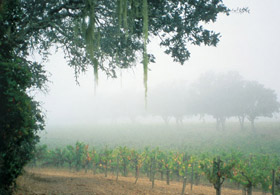 Two Little Known Sub-Appellations
Reveal the Diversity of Sonoma Valley
by Dan Berger
April 16, 2007
---
Any non-cartographer can draw a rough map of
Sonoma Valley
. Starting at the southern end where it butts up against the rolling hills that front on Sonoma Carneros, you would draw a straight line due north-northwest between some hills on the east and west until you reach a point just below the city of Santa Rosa.
The kind of map you would have would be just a vague approximation of a valley that has, in its southernmost reaches, some cooling breezes from San Pablo Bay, an arm of San Francisco Bay. Then there are some slightly warmer, more protected spots in the central regions (such as B.R. Cohn's little "banana belt" of Cabernet Sauvignon just south of Glen Ellen). And a bit further on, there is more Cabernet, Merlot, and other warm-loving grapes up near the Jack London Vineyard near Kenwood.
But what such a map would ignore are two of the more intriguing regions within Sonoma Valley that even local folks don't know much about. Neither region is very heavily traveled, being off the main roads, even though each area has a star winery that makes splendid wine. But these regions are geographically hard to pick up on a map unless it's a topographical one like those from the U.S. Geological Survey.
The two regions are curious in that they are both cooler than the rest of Sonoma Valley, and yet despite the cool weather are ideal for growing of Bordeaux red wine varieties! Their names are Sonoma Mountain and Bennett Valley, and both are little jewels in Sonoma's crown whose recognition, even among wine lovers, is scant to nonexistent.
Small Mountain, Big Wine
Sonoma Mountain
, west of the valley floor's Highway 12, is accessed through the town of Glen Ellen, over twisting ill-paved roads and past spectacular oak, madrone, and manzanita trees to a series of hilltops cooled by afternoon breezes that flow up from San Pablo Bay.
Laurel Glen
, owned by Patrick Campbell, is one of the few wineries located up here, at 1,000 feet on the east-facing slopes, with red soils laden with volcanic rocks.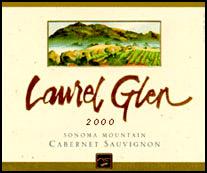 Although Campbell's vineyard is on a vertical shoot-positioned (VSP) trellising system, his fruit is barely a yard off the ground, meaning the clusters get a bit more radiated heat off the ground than do more traditional VSP systems. Campbell said VSP can create sunburn problems, "you just have to manage it, [so] if you have vines that go east-west, you don't take off the leaves on the western side."
Campbell, who has been in the business a quarter century, admits that in the last few years he has been getting higher sugars at the same basic picking dates for his
Cabernet Sauvignon
(his only varietal). He attributes this to reducing his crop a bit more than he used to.
"Since about 1999, we've picked to our acid levels, and let the sugars go where they will," he said. "In the past we had to de-acidify [the Cabernet], so we decided to let the acids and pHs go where they wanted to go, and that meant we would get slightly higher sugars. The unfortunate side effect was slightly higher alcohol," just over 14.0% these days.
The Sonoma Mountain appellation is broad and swings over to include vineyard land on the western side of the hills as well. Campbell thinks there's little connection between east and west. "I think the Sonoma Mountain appellation should have been cut off at the crest, at about 1,200 feet. The west-facing side [of Sonoma Mountain] is considerably different, very much cooler than the east-facing side." A key reason for that is that the same wind conditions that create cold nearer to the coast, called the Petaluma Wind Gap, bring winds up the mountain as well.
Because of this, the western side of the mountain is more home to
Chardonnay
and
Pinot Noir
than to warm-loving varieties. "That side is particularly suited for those varieties," he said. "On the eastern side, we're more suitable to more later-ripening varieties."
But curiously, because Laurel Glen's vineyards are on a flat patch of land, his vines get a full day of sun, even though they are north-facing.
As you look down from Sonoma Mountain on the west side of the hill that faces Petaluma (a western Sonoma County town once called the egg capital of the world), the verdant valley that's southwest of Santa Rosa is clearly disconnected from the rest of Sonoma Valley by low-lying hills.
Merlot and Lavender in The Hidden Valley
This pocket that looks lush almost year-around is
Bennett Valley
. Legally, it is contained entirely within the
Sonoma Valley
AVA, but it is an area that has little to do with the larger AVA.
Like Sonoma Mountain, with its tiny number of producers, Bennett Valley has one dominant on-location producer, the famed
Matanzas Creek Winery
, now owned by Jess Jackson. The pristine 110-acre vineyards that Jackson acquired from Bill and Sandra MacIver (and re-named Jackson Park) are on rolling hills, with six different soil types and literally dozens of different blocks making up a startling mosaic in which mature oak trees remain here and there.
Standing on one north-facing slope of
Merlot
vines, Matanzas Creek's French-born and trained wine maker Francois Cordesse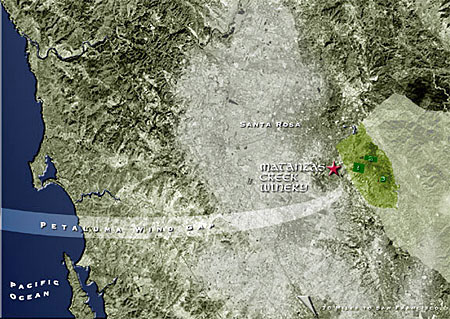 and countryman/vineyard manager Alex Reblé both point out that this is a very cool region. "It is almost as cool as the Russian River Valley," said Cordesse. "We pick a few days before Russian River."
Even with its cool temperatures, Bennett Valley's greatest asset may be a home to classic Merlot, and by that Cordesse means a wine with the distinctive red berry fruit, tea leaf, and spice notes rarely found in the warmer regions. Still, neither Cordesse nor Reblé likes the warmer-climate approach, and to make sure the wines don't get over-ripe, this is one of the few places in northern California's wine country where the VSP trellis is not dominant.
Indeed, Reblé prefers an old Bordeaux trellising system known as Guyot because it helps him reduce vigor and control his crop load. Moreover, with the fruit a bit lower to the ground and under a stronger leaf canopy, clusters retain a bit more of the ground-radiated heat, and the canopy can easily be opened up if they want to tame the pyrazine potential of the vineyard. "It's better to keep the berries in the shade," said Cordesse, than risk sunburn, which is irreversible.
By controlling vigor, the team can shoot for and hit three tons per acre each year, which they perceive