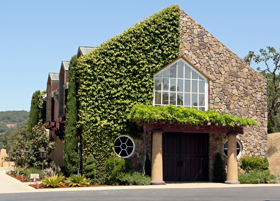 Signorello Vineyards: No Sub-AVA, No Problem
A Napa winery without a sub-AVA shows up as more than a blip on a large screen
by Alan Goldfarb
May 9, 2007
---
ALAN GOLDFARB (AG):
At what stage is a possible AVA for your area?
RAY SIGNORELLO (RS):
We've had talks off and on but we haven't in a while because everyone is so busy.
AG:
What do you think is the viability of yet another sub-appellation? After all, there are 14 now, another pending and at least two others that I know of in the talking or proposal stage.
RS:
It makes sense, but we have to define it and we're a long way from that. But I do know the wines from our area are different.
AG:
Is there even a proposed name?
RS:
Not yet.
AG:
If there is a proposal made, where would the boundaries be?
RS:
It would have to be the Silverado Trail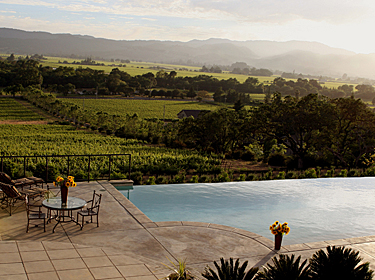 at the center with Oak Knoll to the east, and north to Stags Leap. Going south? That's what I don't know. But I do know that we're talking about hillside fruit here.
AG:
Is that what distinguishes your wines? I know your vineyard, where the winery is, on the east side of the Trail, is on a bench. But what about some of the others in the area? Depending upon how far south you go, many of the vineyards start in the flats and then creep up the bench.
RS:
Here are the distinctions: Oak Knoll is on the valley floor, with deep soils and a lot of vigor. Stags Leap isn't much different. There's a little more vigor which gives you more of a lush style of wine, with lush berry fruit. Here (in the discussed new sub-region) there are shallow soils with less yield. But with that, you get more backbone, more spine to it. The ageability of it is great.
That's why we want to have our own appellation, although I think we share more in common with
Cliff Lede Vineyards
and
Shafer's Vineyard's
Hillside Select (both from Stags Leap).
AG:
Explain what you mean by "backbone" and a "spine."
RS:
For lack of a better term, you know what a Bordeaux would be like. … With a backbone that would be more apparent (as opposed) to a style that is very lush and ripe. We fall more in that style – leanness. Not lean but it has a little more leanness than the wine that is common today.
That's what you get off my vineyard. My background is very European (Burgundian). I don't like super-ripe or high-alcohol wines. We're in the cooler part of Napa Valley in the lower part, so our wine's got more grip and tannin, and is age-worthy.
I love the finesse of certain European wines. We're not trying to build a blockbuster wine. Ours doesn't overpower things, and it goes well with food.
AG:
You also don't filter your wines, use only native yeasts, and I understand you usually pick at around 23.5 Brix (measurement of sugar) and 24 degrees. Describe the composition and make-up of the vineyard on the east side, on the bench.
RS:
It's rocky and we get 2-1/2 tons an acre. It's mostly planted to
Cabernet Sauvignon
(27 acres), which are about 18 years old. We also have three acres of
Cab Franc
, five and a half of
Merlot
, two acres each of
Syrah
and
Semillon
, a single acre of
Sauvignon Blanc
and a half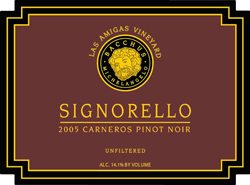 acre of Viognier; then there are five acres of
Chardonnay
, which we planted 28 years ago.
We buy Pinot Noir from the Hudson, Hyde, and Las Amigas vineyards in the Carneros and they all have a common thread: good berry, black cherry, tannins that are integrated and very lush fruit.
AG:
How do they differ?
RS:
To be honest, it changes each year. One year one is more powerful than other. These are great vineyards. We've had some amazing Pinot Noirs from those vines. This is our 14th year from Las Amigas, and the last three vintages we've also gotten from Hudson and Hyde.
AG:
The question is then, will you ever get your own AVA?
RS:
I can't answer that. Who knows?