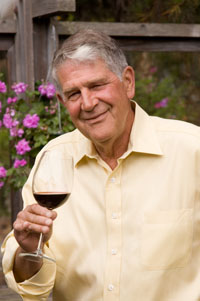 Doug Meador is convinced:
Monterey is one of the world's great wine areas.
by Laurie Daniel
May 11, 2007
---
Laurie Daniel (LD):
What was it that attracted you to the Arroyo Seco area?
Doug Meador (DM):
A fluke. In 1968 I had provided the seed money to two tax shelter guys to start their business. I was a little occupied in Vietnam flying for the Navy. I received an ownership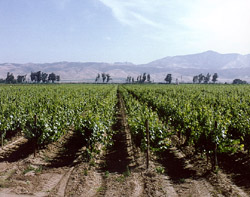 position in any projects they developed. They, with the advice of Ed Mirassou, selected Monterey. When I decided to leave the Navy in December 1971, I was intending to go home to Washington State where I had an orchard, to be an "apple baron". They found out I was leaving the Navy and induced me to come install the vineyards -- about 2,500 acres. I gave them three years and then I was going home. Never made it! I acquired what is now Ventana Vineyards in 1972 and turned it into a research vineyard.
LD:
Which grape varieties are grown at Ventana Vineyards?
DM:
Chardonnay, Riesling, Gewurztraminer, Chenin Blanc, Sauvignon Blanc, Pinot Noir, Cabernet Sauvignon, Tempranillo, Grenache Noir, Syrah, Orange Muscat, Sangiovese (Grosso and Piccolo).
LD:
Do you think the Arroyo Seco AVA has a signature grape variety?
DM:
There are several. There's
Chardonnay
. Twenty-seven consecutive years of golds (for wines made from Ventana Vineyards fruit) would have to argue for this. The success of many vineyards on different soils throughout the county would also. There's
Rielsing
: 29 consecutive years of golds would argue for this, as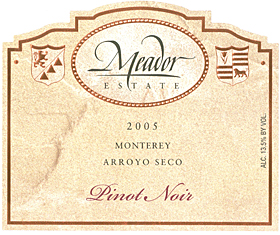 well as golds in Germany.
Syrah
: again, consistent golds here and in France would argue in its favor. And
Pinot Noir
: The climate and soils are right for it here once you get past the B.S. and improper farming. This is a long subject best not covered here.
LD:
I know that you've experimented with a lot of techniques over the years in an attempt to find the best methods for cool-climate viticulture. Could you briefly describe some of your experiments and what you've learned?
DM:
Close vine spacing and vertical shoot positioning with movable wires were developed here in the mid-'70s and the first test blocks installed in 1978. This involved a study of root systems and a variety of other aspects. The outcome was two rows of grapes where there was one before (6 foot by 3.5 foot spacing, vs. the old Davis system of 12 by 7) and 518 vines per acre vs. 2,074. Pounds per vine were reduced, tons per acre were doubled, while radically improving quality. Light exposure and flavor were enhanced and disease reduced.
I was the first person anywhere to put it all together. A lot of people looked at what I was doing when I put that first test block in and said, "Oh, he's just copying the Europeans." The Europeans look at it, and they know it's not like any one region. I'm an equal opportunity thief. I'll steal a good idea from wherever. For example, the movable wires came from Germany.
LD:
How about other experiments?
DM:
Basal leaf stripping began here in 1975 to reduce pH and control botrytis. Post-harvest irrigation began here to keep leaves green as long as possible so they can make and store carbohydrates for next year's crop. Malolactic fermentation of whites began here for the U.S. (At the time), UC-Davis was teaching never to allow it. Andre Tchelistcheff guided me on the work. I was asserting the need for it because of the high acid in Monterey. Work on the differences between yeast strains was done here and displayed to other winemakers. The Davis position until 1985 was that there were no differences.
LD:
Are there any grapes that aren't growing at Ventana that you think might do well in the Arroyo Seco AVA? Any interest in growing some of them?
DM:
There are some Italian grapes that strike me as very interesting. I think there could be some merit to
Malbec
. But I'm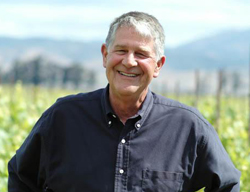 running out of decades, which is about how long it takes to study a variety and then accept or reject it. Add a few years for the wine to mature. You see the problem.
LD:
You've grown and produced wine from Cabernet Sauvignon grapes. Have you had difficulty overcoming the old notion about Monterey Cabernet being too vegetal?
DM:
There was once a notion that ALL wines from Monterey were vegetal. By 1980, the work at Ventana had solved the problems on whites. It took perhaps 10 years for that misconception to go away. Then, the notion or mantra was that Monterey could do whites, but it was impossible to do reds. We are now well along on killing that myth. The
Merlot
and
Cabernet Sauvignon
made from Ventana Vineyards fruit have regularly received silvers and some golds. One of our Merlots was the biggest reorder ever for the California Wine Club – curiously, most of the reorders were from the East Coast. Perhaps French-palate country?
Our style is certainly European with a slathering of California fruit. Our Cabernet requires a different farming regime than the other varieties and more attention to detail. I would not recommend Cabernet to corporate farming entities north of King City. Clonal selection helps, but why not leave it to warmer climates – although global warming could handle that.
I was a believer that Monterey could be one of the great wine areas of the world. Initially, we did everything that Davis told us to do down here, and it was just


Enjoy the convenience of purchasing Ventana Vineyards wines with Appellation America.

Buy them at our winery-direct online wine store.
wrong viticulture for this cool climate. Anyway, that's why we changed everything.
LD:
You were the first to plant Syrah in Monterey County. Why did you think it would be a good fit?
DM:
Conv