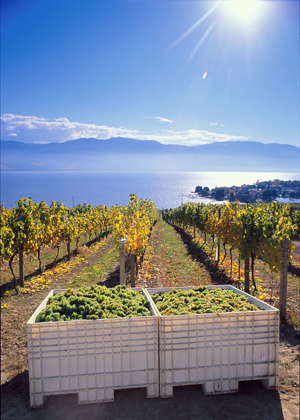 Quails' Gate Estate Winery:
Send in the Clones
by John Schreiner
May 21, 2007
---
John Schreiner (JS):
Why do you and Ben like Pinot Noir so much?
Tony Stewart (TS):
When Ben was first involved with the vineyard, he went over to Europe. He talked to people who said, from what they knew of this region, that Pinot Noir would be the only red
vinifera
they would recommend.
When we started making wines early in the 1990s, we were not seeing the results that we wanted. Many times we would have given up if we had other options but we persevered and the fruit started getting better. We started to learn a lot more about what it takes to get the right Pinot characters.
From 2000, we really turned the corner. A lot of the clones that we had planted were coming into production then, and we saw great promise in the new clones.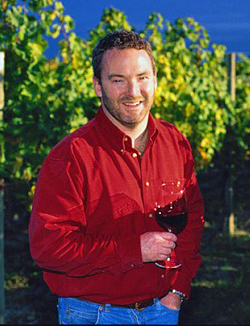 And we were reducing our reliance on outside growers.
When I look at what the Okanagan can do, in terms of wines that can stand up at a tasting of wines from around the world, I believe that the Pinots we are producing are capable of a quality that is on par with other regions. I don't feel the same way about
Cabernet Sauvignon
.
We have the ability to make great Pinot here. It doesn't mean we can't make other great wines but it is the one I firmly believe we can make as an export product, and not find that we are getting unfavourable observations from other regions.
Certainly, the quality of Pinot Noir in the Okanagan has gone up considerably. In the last few years, you have started to see a little bit of a buzz occurring.
I hate to say it, but the movie
Sideways
did have a huge impact on people looking at Pinot Noir. It created a whole bunch of new Pinot Noir drinkers, people that would not have tried it before were now willing to give it a try – and they liked it.
David Sanagan, who is head of Medallion Wine Marketing [Quails' Gate's agent in Vancouver], told me it was almost impossible to get Pinot Noir sold by the glass in restaurants before the movie. Diners wanted Merlot or Cabernet. After Sideways, restaurants started asking for a Pinot they could serve by the glass. So all of a sudden, the variety had a different avenue into restaurants and people were trying it more frequently. And that resulted in the sales taking off.
JS:
Have you been moving to the 10,000-case annual production of Pinot Noir for several years or did the recent plantings just happen to kick in for 2006?
TS:
That's a big jump for us. We've been at about 6,000 cases, so it is a pretty substantial jump.
JS:
You obviously ordered the vines well before the movie was released because of your long established interest in the variety.
TS:
Yes. And we hired Grant Stanley [the winemaker] based on his interest in Pinot Noir. If Grant had it his way, we would probably make only Pinot Noir. Not to say that he does not like making the other wines; he does, but his goal is the make the Pinot Noir as best as he can. The other wines that he makes comprise the portfolio and make it possible for us to invest in the Pinot Noir program and dedicate ourselves to improving what we are doing.
JS:
Grant has told me that he spends 80 percent of his time thinking about Pinot Noir. He applies a lot of techniques to making Pinot Noir that none of his predecessors were using – such as fermenting with native yeasts.
TS:
Grant shows finesse in what he does. He is much more organized and on top of things than any other winemaker that I have ever seen. He understands a lot about what causes problems in Pinot Noir. He has eliminated those. He ensures the ferments are as healthy as possible. We have invested a lot in things that he needed – tanks with glycol warmers and upgraded chilling units, new fermenters, and many other things.
It's clear to me now that wild ferments are the only way to go with Pinot Noir. The key is you have to stay on top of it and you have to look at the wine every day. That's where I say Grant is far more on top of things. He's looking at everything every single day. Not Monday to Friday or every other day, but every single day, he's going through wine.
JS:
When did you family first plant Pinot Noir?
TS:
In 1975, Dad decided to participate in the program with Ste-Michelle [a Canadian winery no longer operating] in bringing in a number of
vinifera
to see how they would develop. He brought in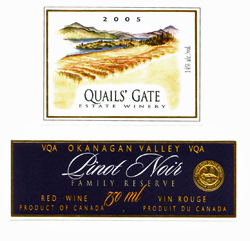 other varieties as well –
Gewürztraminer
,
Chenin Blanc
, Merlot. Pinot Noir was one of them. It was a UC Davis clone.
That led the way to believing that the variety had promise. That inspired Ben in the 1980s to plant additional clones and to research what might work.
Our first planting was one of the first clones that had been developed at Davis. We don't have it anymore. [The wines were too light.] We pulled it out and replaced it with the new Dijon clones.
JS:
Do you benchmark your Pinot Noirs against others?
TS:
Not as much as we would have in the past. We generally are benchmarking against previous vintages and looking at how they compare with wines we have made in the last year or so.
We are continually doing blind tastings where we are bringing in wines from New Zealand and France and California, and looking at those versus what we're making to see that we are delivering value.
If we are making a wine that is selling for $40 [the price of Family Reserve], we want to be certain that it is still delivering better value than a wine that is in the liquor stores at $60.
JS:
Do you see more producers of Pinot Noir in B.C. or fewer?
TS:
I see more people trying to get into it. There is renewed interest in it since sales took off. You'll see people planting based on the trend, rather than that variety being near and dear to their hearts.
One thing with the Okanagan: it's wonderful that we can make Gewürztraminer and Riesling and Merlot and Pinot Gris and Pinot Blanc and Chardonnay and all that. But at some point we are going to have to zero in a little more on what our real focus is.
Currently,
Merlot
is 40 percent of the production of red wines [in the Okanagan]. Are we going to be as successful with Merlot as Washington State or are we going to be more successful with blends?
Are we going to be more successful on the international scene with Pinot Noir than with some of these other varieties? Once that starts to happen, I suspect you will see more people gett