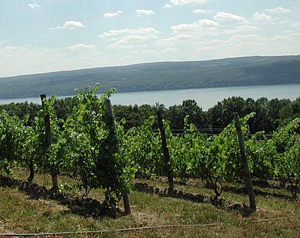 Damiani Wine Cellars Forges Red Wine
Reputation in The Finger Lakes
When you consider the Finger Lakes for wine, do you immediately think of white wine? Well, think again and get "red"y.
by Craig Pinhey
September 17, 2007
---
T
he average North American with any wine "chops" whatsoever knows that the
Finger Lakes
wine region in upstate New York makes respectable
Riesling
, with great acid, minerality, floral notes and pure citrus and apple fruit.
If you haven't had the pleasure, plan a trip around the Fingers and see what the various appellations have to offer.
Cayuga Lake
and
Seneca Lake
are the only official sub-AVA's inside the large Finger Lakes AVA, but one could argue there should be more. If you love aromatic whites with crisp acid, and enjoy gorgeous water-views, you may just find your new home. Although you may know the pioneers like Dr. Konstantin Frank, there are many other producers with wine just as good, whose tasting rooms are far less busy.
In my own recent visit, it was impossible to miss the gradual move to red winemaking that's been sneaking into the area. It's not just winter hardy hybrids, crosses and oddballs, despite that the Black Russian Red made from Eastern European varieties - Sereksiya and Saperiva (Charni) - at McGregor Vineyards is one hell of a salesperson for them.
It seems
Pinot Noir
and
Cabernet Franc
are the quality wines of choice; not altogether surprising given their pedigree just across the border in Ontario, but there's an emergence of other black
vinifera
grapes too, such as
Syrah
and
Cabernet Sauvignon
, at least in certain prime spots.
Here Come Some Serious Finger Lake Red Wines
Damiani Vineyards
is one of the wineries that is focusing on serious reds, and one visit there might just make you a believer in Finger Lakes reds.
Opened in 2005 in Hector, near the southern tip on the east side of Seneca Lake – "the banana belt," according to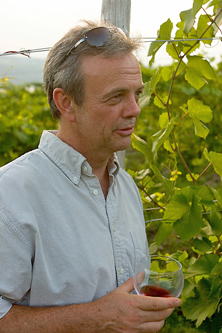 owners Lou Damiani and vineyard manager Phil Davis – Damiani is an example of a small winery thinking big: in terms of their reds, anyway.
So they picked their hot spot in a banana belt in snowy New York? "We call it that due to Seneca Lake being the deepest of the Finger Lakes, at over 700 ft, with west prevailing winds. Also, this area has grown fruit since colonial times: cherries, peaches and grapes."
Phil's father had been growing grapes in Hector 30-40 years ago, so it's a natural location for him. Lou, who has worked in various capacities in the local wine industry, consulted Phil when he planned his vineyards in 1996. Both now own land planted with
vinifera
grapes that supply the winery.
The terroir is warm enough even for Cabernet Sauvignon, as proven by their 2005 which, although certainly well structured with dusty tannins, does not suffer from overly vegetal characteristics. The 05 Meritage is even more drinkable, but with firm tannins, the kind that make a wine writer think 'This could age!'
"Cab Sauv certainly likes to hang on the vine longer than Cab Franc," explains Lou, the winemaker, "so we consistently get a nice Cab Franc here, whereas Cab Sauv, given the growing season, might not be as ripe every year.
"The Meritage blend doesn't change an awful lot from year to year, so far, but we do try to pick the best barrels of each variety and do quite a few taste tests to get the Meritage blend we are looking for. We do look at it as our top shelf. Roughly speaking, it is close to equal parts Cab Sauv, Cab Franc and Merlot, although I like the 'stiffness' that the Cabs add, so there is a little more of them. There are always production factors involved in our blend also, such as available amounts, etc."
Advertised on their website for $25, their 'top shelf' Meritage seems like a steal, and it is. This ain't Napa (that's not an insult, by the way). Even their top Pinot Noir (see our review of the
2005 Pinot Noir
), which is arguably their best red and best expression of terroir, sells for only $22.
While there, I tasted one test blend for the next (2006) Pinot release, as well as the 2005 (smooth, but earthy, balanced acid and tannins, and full of cherry fruit) and 2004 (spicy oak, with lots of acid, candied cherry notes). The '06 was quite forward for a barrel sample, with perfumed cherry and 'Old World' terroir notes.
"I have not chosen the blend for the Pinot Noir yet." explains Lou. "I am letting them sit in barrels, although three barrels of one vineyard was taken out of oak and put in stainless steel. I think the next process before I really start trying to put it together is to go through a gentle fining process. A few barrels with isinglass and a few barrels with gelatin. I will do trials on this soon. My thinking is that I will have 2 Pinots: 100 cases of reserve and 200 cases of non-reserve, at two different prices. Two of the three vineyards of the Pinot are from the east side of Seneca Lake - one being a little over cropped - and the third vineyard is from the west side of the lake which produced a lighter but very fruity Pinot Noir."
Bringing Burgundy to the Finger Lakes
That's definitely a Burgundian approach. And, when you understand the terroir here, you appreciate that Burgundian thinking makes more sense than in California or even Oregon.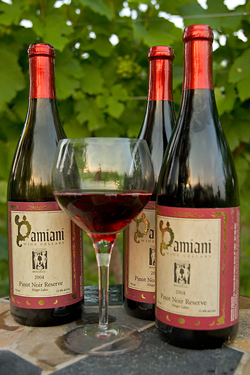 "The 2004 Pinot was light, more delicate, more nuanced. It was a blend of two vineyards. I know something about the concept of Grand Crus (single vineyards with old vines), but, having said that, there is something beautiful about a virgin crop. Part of the 2004 was a virgin crop from a new Pinot Noir vineyard - Phil's vineyard. The other part was from a 20 year old Pinot Noir vineyard."
Lou notes, "The 2005 year was a very hot intense summer. We had drought that year so the fruit was dehydrated, with very developed tannins, intense fruit, 24°Brix. The ph was around 3.5."
This explains the round, forward fruit character of this lovely wine. It would be nice to see more on the market, but this is a new, small winery. It's growing, though. They now have 10 acres under vine, with a further 5-10 coming. Not all of the fruit goes to Damiani Vineyards though.
"My brother Anthony and I have a vineyard, " answers Lou. "His fruit, half of our production, goes to
Red Newt
under the Glacier Ridge Vineyard designation."
We tried that wine, a
Merlot
, at Red Newt before heading down the road to Damiani. Red Newt does a good job on that and other wines (including Riesling, of