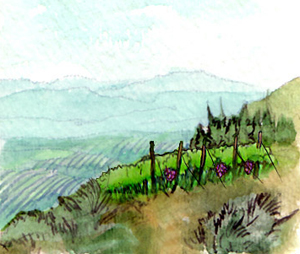 Wild Horse Valley ~ Napa Valley (AVA)
The Siberia of the Napa Valley
Has Wild Horse Valley's Time Come?
"I think it's very promising, but people need to understand it's not the Napa Valley. It's its own area."
~ Leslie Cisneros, winemaker, Arista Winery
by Alan Goldfarb
October 5, 2007
---
Y
ou almost never see it on a wine label. There are less than 100 acres planted to grapes on three or four vineyards. Currently there are no wineries. And even though it's only a 15-minute drive and maybe six miles due east as the crow flies from downtown Napa, the
Wild Horse Valley
is the Siberia of the
Napa Valley
.
Even though it began its life almost 20 years ago when it was named as one of the region's 14 sub-appellations, the
Wild Horse Valley
is virtually unknown. Additionally, because of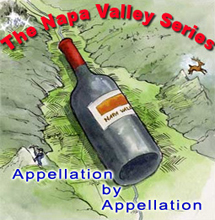 its mountainous terrain, with elevations that begin at 1,000 feet, chances are the region will remain anonymous and in obscurity for some time. That's because there is hardly any more room to plant vineyards in the narrow region; and whatever parcels do come up for sale, seemingly do so every 100 years, give or take.
When asked what might be the future for more vineyards and/or wineries in WHV, Brian Silver, the owner of what might be the largest vineyard in the AVA (American Viticultural Area) replies, "The appellation is a slow starter." Despite the fact that the region was granted AVA status in 1988, there is not a bit of irony in Silver's response.
"There isn't enough room for much more in the way of vineyards," says Silver, who has a 28-acre Chardonnay vineyard called Wild Horse Vineyard of Napa Valley (which differentiates it from the Wild Horse Winery of Paso Robles). "The few vineyards that are here are going to be recognized eventually because it's quite special. What will distinguish it is the quality of its fruit, which has extraordinarily high acid."
That's a good thing, and therein lays the distinctiveness of Wild Horse Valley – the high acidity and low pH of its fruit, which is almost exclusively
Chardonnay
and
Pinot Noir
. That's because WHV is maybe the coolest region in the Napa Valley, even more so than the Carneros below and to the west.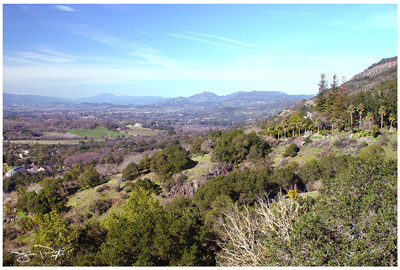 Over the years there have been more than a dozen or so producers who have purchased fruit from Heron Lake Vineyards' 24 acres, the Birkmyer Vineyard, now Nicols (20 acres), and from Silver's site. Among the suitors have been Newton, Harrington, Elyse, Arista, and Purple Wine Co. In addition, Heitz, Rosenblum, Alpha-Omega, Pahlmeyer, William Hill, Domaine Chandon, Stag's Leap Wine Cellars, Stags' Leap Winery, and Beringer have all come calling at one time or another.
There are other vineyards in the area such as Lyon (10 acres) and the Wild Horse Valley Ranch (60), the latter of which is farmed by famed vineyard manager David Abreu and whose yet-to-be released wines are overseen by super-consultant Heidi Barrett. But those properties are just beyond the defining line of WHV and therefore fall into the wider Napa Valley AVA.
So, if WHV – parts of which, interestingly, straddle Solano County to the east – is going to emerge from the netherworld and distinguish itself among the increasing sub-regional morass of the greater and much more famous Napa Valley, it will be for its Pinot Noir and Chardonnay plantings. Perhaps as the
Carneros
below – the Napa Valley's prime locale for those two cool-climate varieties – begins to ramp up its
Merlot
and
Syrah
vineyards in order to diversify and overcome its own image problems, there will then be an opening for WHV to make an end run. And score a TD or two with its version of Chardonnay and Pinot.
With elevations of up to 1,800 feet, shallow, rocky soils, and diurnal temperature swings during the day that can span 40 degrees, the region is being compared not only to the Carneros but also to the cool
Anderson Valley
of Mendocino County and even Oregon. It's so cool up in WHV's verdant nooks and crannies that the Chardonnay and Pinot are usually the last varieties to be picked in the Napa Valley.
In most years, Brian Silver's Chardonnay is not harvested until well into November, long after most red varieties have been picked throughout the rest of the region.
Ray Coursen, the owner of
Elyse Winery
in Yountville, is particularly enamored with Bob Nicols' vineyard. He's purchased both
Chardonnay
and
Pinot Noir
from the site at about 1,400 feet.
"It's a beautiful vineyard. It's one of those vineyards I'd give it all up for," he says. "It overlooks Suisun Bay and looks eye-to-eye with the Sierras. The site is gorgeous.
"The daytime heat is intense and it's cold at night up there … and I think part of making great wine is the extremes. It's very rough with lots of rocky soils, and not

A wide selection of Napa Valley wines
are now conveniently available
Directly from the Wineries
in the
APPELLATION AMERICA
online wine store.
a lot of soil. The vines are pouring themselves out to produce up there. If I had the money, I would have loved to have bought the Birkmyer Vineyard.
"It's very untypical Napa (because of the acids). It makes leaner, better balanced, and not quite as opulent wine."
Another who is taken by WHV is Leslie Cisneros, the winemaker for
Arista Winery
in the Sonoma County's Russian River Valley. She too buys fruit from Bob Nichols' vineyard and is making about 100 cases from his 2006 Pinot Noir.
"I don't want to blend it because it tastes so distinctive," says Cisneros, who is thinking about placing it in Arista's single-vineyard program. "…I thought it could be a little jewel. I'm quite, quite pleased with the fruit. It's extremely floral with violet and lavender (aromas). It's a unique nose, distinct (aromas) that you don't get in Russian River. The fruit is very, very intense."
So, what does the future hold for WHV?
Ray Coursen is a believer, but he cautions