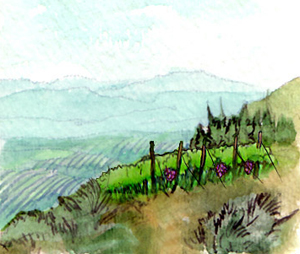 Wild Horse Valley ~ Napa Valley (AVA)
The Siberia of the Napa Valley
Has Wild Horse Valley's Time Come?
"I think it's very promising, but people need to understand it's not the Napa Valley. It's its own area."
~ Leslie Cisneros, winemaker, Arista Winery
by Alan Goldfarb
October 5, 2007
---
Y
ou almost never see it on a wine label. There are less than 100 acres planted to grapes on three or four vineyards. Currently there are no wineries. And even though it's only a 15-minute drive and maybe six miles due east as the crow flies from downtown Napa, the
Wild Horse Valley
is the Siberia of the
Napa Valley
.