Persimmon Creek Vineyards Shows Off the Changing Landscape of Georgia Wineries
Georgia has never exactly been viewed as wine country but interest in the wines coming from the southern state has increased because of the quality of wines produced by Persimmon Creek Winery, among others.
by Gregory McCluney
January 28, 2008
---

ew
American wine consumers – or even people in the wine industry - would correctly place
Georgia
as a significant grape-growing state. Yet, thanks to huge
Muscadine
plantings in Central and South Georgia, the state actually has thousands of acres of fruit in the ground.
Georgia
vinifera
vineyards are, of course, quite another story. Although there are now more than a dozen noble wineries across North Georgia, the wine industry is still fragmented and inconsistent. It has never seen the momentum of Virginia or North Carolina, despite good, award-winning results in some wineries and excellent potential in the higher-elevation northern terroir.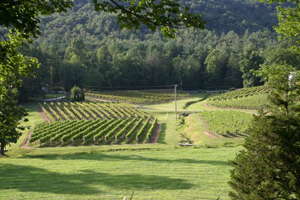 Enter
Persimmon Creek
. In 2000, Dr. William "Sonny" Hardman and his wife, Mary Ann, purchased their 110-acre vineyard property near Clayton, Georgia. The land is about half way between two pristine Georgia mountain lakes, Rabun and Burton, in an area known to be a summer mountain recreation area for affluent Georgians, especially those from Atlanta. It's just a short drive to
Tiger Mountain
's successful vineyard property near Tiger, Georgia.
The Persimmon Creek property is said to have been the home of some of the more prosperous moonshiners in north Georgia and was once planted almost totally in corn - for obvious reasons! As late as the 1950s, moonshiners were still successfully outrunning the Federal "revenuers", by roaring around the local highways in hopped-up Ford V-8s, loaded down with Georgia Gold corn whiskey.
At an elevation of around 2000 feet, with white pines, cool mountain air and the primarily sandy and alluvial soils of the hillside, the property has a a radically different profile than what most wine consumers and industry types would expect. There's none of that ubiquitous Georgia red clay in sight.
The entire property was planted in Riesling, Merlot, Cabernet Franc and
Seyval Blanc
(a variety that is now being expanded). From the start, Persimmon has been very much a family affair with the Hardmans and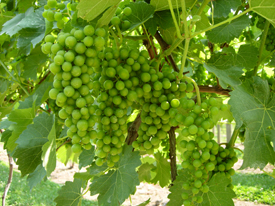 their two sons intimately involved in every phase of the growing process. The family could well afford to be winery dilettantes, but so far, they have stayed well involved - laying down stakes, pruning vines, picking, topping, punching down corks, and even applying labels to individual bottles. In fact, teenaged Mitchell, their number one son, has just convinced his proprietor and winemaker dad to go biodiesel in all vineyard equipment - a sizeable upgrade and investment.
But Persimmon Creek has a secret weapon, that few others can match, in its sales director – a petite blond dynamo, mom of three and the archetypical southern belle from Athens, Georgia. Mary Ann Hardman, the doctor's wife, separates the men from the … well, shall we say, other sales people. The winery's wild card can be found roaring through Atlanta with the top down on her red Mercedes convertible, on the way to yet another restaurant appointment.
"I don't have much trouble getting in to see people, but in many higher-end restaurants, Georgia wine is still a tough sell," she laments. Still, Mary Ann is a tough salesperson, and her results show she is up to the task. She will charter a private plane to the Georgia coast, fly to the London wine show, jet across the country to San Francisco, or sit in the foyer of the local Ritz Carlton at the drop of a corkscrew, if it will get Persimmon Creek wines on the list – or at the very least, in a competition or tasting.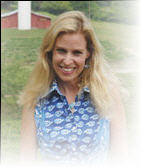 "I go where I need to go," she says simply. "Sonny is making very good wines with a great respect for the terroir of our land and vineyard, and I feel if we can just get them in front of people to taste, sales will take care of themselves."
So far, it's hard to argue with either her sales efforts or her logic. Persimmon Creek wines can now be found on the list of the Victorian jewel, the Jekyll Island Club Hotel on Georgia's Golden Isles, where the Rockefellers and Vanderbilts came to rest and dine; the Greyfield Inn on Cumberland Island, Georgia; Quince's restaurant in San Francisco; and on the list at Atlanta's Buckhead Life Group's 103 West, a premiere private dining venue.
The winery's awards span the country, too, ranging from a Bronze at the San Francisco Chronicle Wine Competition to a Silver at the Hilton Head, SC, Winefest. Persimmon Creek also received a Silver medal in the
Vineyard & Winery Management's
Grand Harvest Awards for its 2005 Late Harvest Riesling. Awards or no awards, the wines speak for themselves. Here's a quick look at some of the wines Dr. Sonny is making and where they come from.
2005 Cabernet Franc
Cabernet Franc
loves cool weather, and Persimmon Creek has a nice spot for it on a westward facing slope, where the soils ares very well drained and are sandy, rocky and limestone-based with quartz and mica content. This was the winery's first planting of red grapes in 2000. The wine is fermented in stainless steel and then aged in a combination of new French, Hungarian and American oak. Medium bodied in the mouth, this Franc gives flavors

of black and red berry fruit with a bit of cinnamon toast on the firm, dry finish Then, some hints of raspberry on the nose.
2005 Merlot
The Doc has positioned his
Merlot
to be a heat-seeking vine, on a steep hillside (elevation 2100 feet) facing west in rocky, well drained soil. Lots of wind exposure protects the vines and helps this thin-skinned grape to ripen free of bunch rot. The wine is finished in a combination of new French, Hungarian and American oak. This vintage has black cherry smoke with hints of roast coffee and medium tannins. There's a pleasing hint of red licorice lingering in the finish, enhanced by spiced oak. (For a full review see
APPELLATION AMERICA

Wine Recommendations
)
2005 Trillium Late Harvest Riesling
Persimmon Creek is the only winery in Georgia currently making estate grown and bottled Riesling. While dry
Riesling
finished in stainless steel is also made, the T