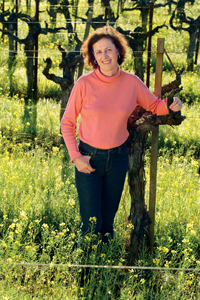 How Robert Mondavi Winery
Maintains Its Original Vision
You get Genevieve Janssens as the winemaker.
Three years under Constellation Brands, unheralded Genevieve Janssens still makes classic Mondavi wines – maybe even better. And Constellation Brands hands-off policy is paying off.
by Alan Goldfarb
February 1, 2008
---

n
the final years of the
Robert Mondavi Winery
's reign as the U.S.'s most iconic wine family, there was Genevieve Janssens, quietly making Bordeaux-like classic American wine. In the aftermath of the three years since the Mondavis lost their Napa Valley property, there still stands Genevieve Janssens, now making those classic red wines for the world's largest wine corporation.