---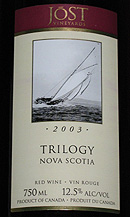 Jost Vineyards
2003 Trilogy
(Nova Scotia)
Despite the vogue for single variety wines that has driven the American wine culture for the last four decades, the broader history of wine has been about blending. The classic blend, of course, is Meritage, a Bordeaux mélange that developed as a viticultural practice of mixing cultivars in the vineyard in order to insure some sort of crop against the vagaries of terroir and irregularities of vintage. Strange as it may seem to the contemporary North American wine consumer, the Bordelaise never thought that Cabernet Sauvignon was a perfect grape, nor have they invested a notion of singular virtue in any of the other varieties assembled to make their "perfect" Bordeaux wines.

Much the same could be said for the French American hybrid varieties that go into the Jost 2003 "Trilogy". To be sure, Baco Noir, Leon Millot and Marechal Foch are typically offered up as single variety products, with passable-to-good public acceptance. What Trilogy reveals is that the whole can be much much more than the sum of its parts. The marriage here is expressed in a beautifully balanced wine: dense purple-to-black, with a big fruit forward (but not jammy) nose with tinges of anise and oak, sour cherry and mixed berry flavours held together by subtle tannins and restrained alcohol (12.5%). The component parts of the blend do not standout, but the tincture and tannin of the Baco, the broad fruity body of the Foch and the perfume of the Leon Millot are all here…though damned if I can sort'em out. But, why try?
Reviewed June 12, 2006 by Roger Dial.
Other reviewed wines from Jost Vineyards
---
Winery: Jost Vineyards
Vintage: 2003
Wine: Trilogy
Appellation: Nova Scotia
Grapes: Baco Noir, Leon Millot, Marechal Foch
Price: 750ml $15.99



Roger Dial

Under various hats (winegrower/maker/negotiant/writer) Roger Dial has been tasting wine professionally for 40 years. He regards varietal and regional diversity as the best virtues of wine, and is ever-suspicious of the quest (by producers and critics, alike) for "universal greatness". His tasting regime is simple: Is the wine technically sound? Is it interesting? Warning: he's a sucker for all aromatic varieties.