---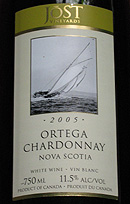 Jost Vineyards
2005 Ortega Chardonnay
(Nova Scotia)
Talk about the Odd Couple! Both of these grapes come from western Nova Scotia's Annapolis Valley where thirty years of viticultural experimentation and development has created an exceptionally broad catalogue of cultivars for winemakers to "play" with. Ortega is one of the German "new varieties"; a hybrid parented by the over-productive Muller-Thurgau and the over-flavorful Siegerrebe. And, Chardonnay is…well, it's Chardonnay, as if that actually meant something. In fact, despite its popular reputation as the "world's best" white wine cultivar, Chardonnay is a chameleon cepage whose strongest virtue is that it seems to mirror the distinctiveness of the terroir it grows in (when not imprisoned in wood). In my opinion, Nova Scotia Chardonnay has yet to prove itself, though that may just be a matter of finding a distinct terroir worthy of mirroring…the search is definitely on all across Nova Scotia.

The 2005 Jost Ortega Chardonnay comes off as a pretty wine, with fragrances of elderflower, sandalwood and perhaps a bit of papaya. It is a full-bodied wine, with a delicately proportioned touch of sweetness but not a lot of layered complexity. It's really all about the Ortega, and one wonders exactly what the Chardonnay is doing in this Odd Couple relationship? I suspect the Chardonnay is there for label attraction, and to help balance the acidity, of which Ortega is typically lacking. Ironic, isn't it; the "world's best" white wine variety is here to add "bite", rather than "beauty"…it's the Ortega that makes the "pretty" here. ($17.99, 11.5% alcohol, 100 cases made)
Reviewed June 12, 2006 by Roger Dial.
Other reviewed wines from Jost Vineyards
---
Winery: Jost Vineyards
Vintage: 2005
Wine: Ortega Chardonnay
Appellation: Nova Scotia
Grapes: Ortega, Chardonnay
Price: 750ml $17.99



Roger Dial

Under various hats (winegrower/maker/negotiant/writer) Roger Dial has been tasting wine professionally for 40 years. He regards varietal and regional diversity as the best virtues of wine, and is ever-suspicious of the quest (by producers and critics, alike) for "universal greatness". His tasting regime is simple: Is the wine technically sound? Is it interesting? Warning: he's a sucker for all aromatic varieties.