---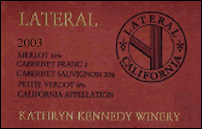 Kathryn Kennedy Winery
2003 Lateral (Bordeaux Blend)
(California)
This blend of 47% Merlot, 25% Cabernet Franc, 25% Cabernet Sauvignon and 3% Petite Verdot, honors its right bank St. Emilion roots, being mostly Merlot, but it straddles both sides of the primordial river in every sense of the word. Marty Mathis, winemaker, created the Lateral brand in 1988 (gosh, that's almost two decades ago!!) to reach a different audience that could deal with blends. Thank goodness he's still at it. And thank all you serious students for continuing to delight in these most intriguing wines.

A layered, engaging and constantly unfolding Bordeaux blend, this 2003 Lateral is a beautiful shade of church velvet purple (the kind of pillows the priests sit on). It establishes a regal, ceremonial feel. Thank goodness it's not incense in the nose, but instead, cherries, dark-ripe plum and distinctive Belgian chocolate. Get ready, because the play has just begun.

Suddenly, you're drinking a meaty plum tart with cedar, pepper, herbs and fabulous high notes of raspberry liqueur. Wow, even a hint of fine cognac. This wine is so elegant and sophisticated, I went upstairs to my closet to fetch a hat. Considered gloves, but I hate spilling wine on white suede. You can easily be seduced by this wine, and then, more easily lost in its complexity and charm. It reeks of the proper butler's pantry: cigars, sherry, cognac, cedar closet and glove leather – wait, wait, do I smell Eau de Rolls Royce? This wine most certainly could be that fragrance. Most wonderfully, much of it translates to the palate in the form of a smooth, sleek and fabulously Greta Garbo-like elixir. It is as smooth and lovely as her hair, but still wears the hat and the gloves, never giving up one ounce of sophistication. And that's the whole idea. This is a wine you can drink in confidence – with or without – all your totally snooty friends.
Reviewed July 25, 2006 by Laura Ness.
Other reviewed wines from Kathryn Kennedy Winery
---
Winery: Kathryn Kennedy Winery
Vintage: 2003
Wine: Lateral (Bordeaux Blend)
Appellation: California
Grapes: Merlot (47%), Cabernet Franc (25%), Cabernet Sauvignon (25%), Petit Verdot (3%)
Price: 750ml $32.00



Laura Ness

A wine writer and wine judge for major publications and competitions around the country, Laura Ness likens wine to the experience of music. She is always looking for that ubiquitous marriage of rhythm, melody, and flawless execution. What is good music? You know it when you get lost in it. What is good wine? It is music in your mouth.