---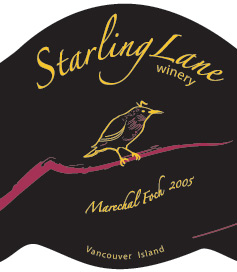 Starling Lane Winery
2005 Marechal Foch
(Vancouver Island)
Many of the red French hybrids that dominated British Columbia's vineyards two decades ago have been pulled out. But Foch, because it ripens reliably in cool climates, has made something of a comeback. Currently, the 92.6 acres of Foch grown in British Columbia comprises 2.7% of all the red winemaking grapes grown here.

The variety is found in each of the four vineyards that supply Starling Lane. The independently-owned Fleurie Vineyard is in the Cowichan Valley while the others, all owned by the partners in this winery, are on the Saanich Peninsula north of Victoria. Heritage Farm is owned by John and Jacqueline Wrinch. Hummingbird is owned by Ken and Sue Houston, and Mussio by Jerry and Sherry Mussio. With the sea breezes, these vineyards are among the coolest terroirs on Vancouver Island. That does not seem to stop Foch from ripening. This wine ended up with 13.9% alcohol, a quite respectable ripeness in any wine region.

At Starling Lane, the Foch grapes get a one or two-day cold soak after being crushed and then fermented rapidly. Because the juice is red, exposure to the skins is limited. Consequently, the finished wine, while still an attractively dark ruby and with good body, shows no hybrid gaminess. The aroma is faintly smoky, somewhat of a signature of red hybrids, with a hint of raspberry and chocolate. The wine tastes of plums and cherries, lifted by spiciness from having aged in good barrels. The soft, ripe tannins contribute to the wine's polished texture. There is just enough acidity to give the wine a bright, vibrant finish. Wine like this explains why Foch has made a comeback. 89 points.
Reviewed September 20, 2006 by John Schreiner.
Other reviewed wines from Starling Lane Winery
---
Winery: Starling Lane Winery
Vintage: 2005
Wine: Marechal Foch
Appellation: Vancouver Island
Grape: Marechal Foch
Price: 750ml $23.90



John Schreiner

John Schreiner has been covering the wines of British Columbia for the past 30 years and has written 10 books on the wines of Canada and BC. He has judged at major competitions and is currently a panel member for the Lieutenant Governor's Awards of Excellence in Wine. Both as a judge and as a wine critic, he approaches each wine not to find fault, but to find excellence. That he now finds the latter more often than the former testifies to the dramatic improvement shown by BC winemaking in the past decade.