---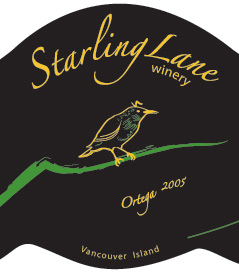 Starling Lane Winery
2005 Ortega
(Vancouver Island)

The Ortega grape is a German cross of Müller-Thurgau and Siegerrebe, ubiquitous on Vancouver Island where most of British Columbia's 38 acres of this variety are grown. It is an early ripener that, when made carefully, yields wines that rise above the blandness of Müller-Thurgau but seldom show the excessive Muscat spiciness of Siegerrebe. Grown on the right soil and vinified at cool temperatures, the variety even shows the zesty flavours of Riesling.

Starling Lane's Ortega – only 110 cases were released from the 2005 vintage – is one of Vancouver Island's best. The grapes are grown in the tiny but manicured vineyards operated by the three couples who opened this winery in 2005. The efficiency of three growers pooling their grapes and their resources in a common winery is so sensible that one wonders why more small start-up vintners don't adopt it. What makes Starling Lane work is that each of the six partners have clearly defined roles that complement each other.

The harmony expresses itself in the refreshing and clean wines, including the 110 cases of 2005 Ortega. The wine appeals immediately, sending aromas of freshly sliced melons from each newly poured glass. A barely perceptible effervescence lifts the juicy flavours of limes and gooseberries. The dry finish lingers on the palate. 90 points.
Reviewed September 20, 2006 by John Schreiner.
Other reviewed wines from Starling Lane Winery
---
Winery: Starling Lane Winery
Vintage: 2005
Wine: Ortega
Appellation: Vancouver Island
Grape: Ortega
Price: 750ml $18.90



John Schreiner

John Schreiner has been covering the wines of British Columbia for the past 30 years and has written 10 books on the wines of Canada and BC. He has judged at major competitions and is currently a panel member for the Lieutenant Governor's Awards of Excellence in Wine. Both as a judge and as a wine critic, he approaches each wine not to find fault, but to find excellence. That he now finds the latter more often than the former testifies to the dramatic improvement shown by BC winemaking in the past decade.