---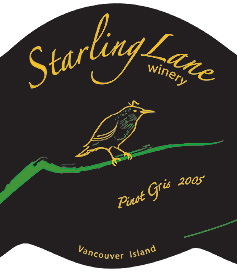 Starling Lane Winery
2005 Pinot Gris
(Vancouver Island)
The Saanich Peninsula north of Victoria is populated with gentleman farmers with tiny vineyards each too small for viable wineries. While the vines provide low farm tax status to elegant country homes, something must also be done with the grapes each fall. The model is Starling Lane, which opened in 2005. Three genteel farming couples, each with two to three acres of vineyard, pool their grapes and their skills in this one winery, releasing perhaps 600 cases of wine annually and selling out in a flash.

The Starling Lane winery and tasting room is located conveniently on Heritage Farm, the historic property owned by John Wrinch and his wife, Jacqueline. The history is colourful even if not celebrated on the label. The property's 19th Century owner was Judge Matthew Begbie, still remembered as The Hanging Judge because he imposed the mandatory death penalty during numerous criminal cases.

The winemaking partner is a Victoria radiologist, Dr. John Wrinch, who has mastered the art of delivering vibrant fruit in Starling Lane's white wines through the technique of prolonged cool fermentations. This Pinot Gris – only 75 cases were produced – begins with delicate fruity aromas. It delivers flavours of lime, white peach and pear and finishes crisply with a hint of anise. This is exactly the sort of refreshingly edgy white that pairs with Vancouver Island's abundance of fresh seafood. 87 points.
Reviewed October 26, 2006 by John Schreiner.
Other reviewed wines from Starling Lane Winery
---
Winery: Starling Lane Winery
Vintage: 2005
Wine: Pinot Gris
Appellation: Vancouver Island
Grape: Pinot Gris / Grigio
Price: 750ml $18.90



John Schreiner

John Schreiner has been covering the wines of British Columbia for the past 30 years and has written 10 books on the wines of Canada and BC. He has judged at major competitions and is currently a panel member for the Lieutenant Governor's Awards of Excellence in Wine. Both as a judge and as a wine critic, he approaches each wine not to find fault, but to find excellence. That he now finds the latter more often than the former testifies to the dramatic improvement shown by BC winemaking in the past decade.