---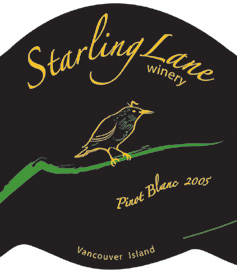 Starling Lane Winery
2005 Pinot Blanc
(Vancouver Island)
Pinot Blanc (also called Weissburgunder) was among the most successful vinifera varieties to emerge from the British Columbia vineyard trials sponsored in the late 1970s by Dr. Helmut Becker from Geisenheim University in Germany. Today, it has slipped to the fourth most widely planted white in British Columbia, at 320.5 acres – well behind Chardonnay, Pinot Gris and Gewürztraminer.

The trouble with Pinot Blanc is that it is a chameleon variety that can be barrel fermented, or aged in oak, or fermented in steel tanks – and all the wines will be solid, but not distinctive. In my view, the best Pinot Blancs are not the faux Chardonnay styles but rather those where the winemaker lets the variety's delicate fruit sing out loudly. Starling Lane's John Wrinch, a radiologist in his other life, is one such winemaker. Starling Lane's 2005 Pinot Blanc, of which only 75 cases were made, is a textbook fruit-forward example of what can be achieved by not copying Chardonnay.

Pale with greenish glints, the wine begins with hints of pear and banana on the nose. This carries through to the palate, with sparkling fresh flavours of pear, banana, citrus and apple slices, and with a minerality that gives weight and richness to the texture. The finish is crisp, tangy and, with a restrained 11.9% alcohol, appealingly fresh. It would be hard to find a better wine for seafood. 90 points.
Reviewed October 26, 2006 by John Schreiner.
Other reviewed wines from Starling Lane Winery
---
Winery: Starling Lane Winery
Vintage: 2005
Wine: Pinot Blanc
Appellation: Vancouver Island
Grape: Pinot Blanc
Price: 750ml $18.90



John Schreiner

John Schreiner has been covering the wines of British Columbia for the past 30 years and has written 10 books on the wines of Canada and BC. He has judged at major competitions and is currently a panel member for the Lieutenant Governor's Awards of Excellence in Wine. Both as a judge and as a wine critic, he approaches each wine not to find fault, but to find excellence. That he now finds the latter more often than the former testifies to the dramatic improvement shown by BC winemaking in the past decade.