---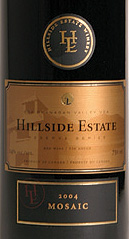 Hillside Estate Winery
2004 Mosaic
(Okanagan Valley)
Sometimes, it seems as if there is rivalry between Hillside's Mosaic and Hillside's Reserve Merlot about which will rule as the winery's flagship red. The latter wine invariably is plump and friendly but Mosaic has the edge, thanks to the complexity achieved by blending all five of the major Bordeaux reds.

While Hillside's reputation rests on its white wines, it has a considerable history with reds. Vera Klokocka, the self-taught vintner who opened the winery in 1990 in a tiny farm house and sold it five years later, was the first on the Naramata Bench, and perhaps one of the earliest in the Okanagan, to release a Cabernet Sauvignon. The volume from the postage stamp vineyard was so modest that she seldom had a chance to impress with it.

With one notable exception. Windsor area winemaker Sal D'Angelo, who began vacationing in the Okanagan in 1987, brought a bottle of his Ontario Cabernet to dinner with Hillside's owners, complaining that he could not find a good red in B.C. He changed his mind when he tasted Vera's Cabernet – to such an extent that D'Angelo has just opened his own B.C. winery, not far from Hillside, where he makes only reds.

Everything has changed at Hillside since D'Angelo's dinner there. It is now a 15,000-square-foot winery looming over Naramata Road, with larger vineyards and an Australian-trained winemaker in Kelly Symonds. She assembled this Mosaic blend, aging the wine nine months in French and American oak before releasing it. Dark in colour, it has aromas of chocolate, liquorice, mint and figs. On the palate, it has Christmas pudding flavours, with plenty of spicy plum notes. The texture is robust and muscular – a wine built for aging. But take care: the quality of the cork used here is not up to the quality of the wine. 88 points.
Reviewed October 23, 2006 by John Schreiner.
Other reviewed wines from Hillside Estate Winery
---
Winery: Hillside Estate Winery
Vintage: 2004
Wine: Mosaic
Appellation: Okanagan Valley
Grapes: Merlot (72%), Cabernet Franc (9%), Cabernet Sauvignon (9%), Malbec (5%), Petit Verdot (5%)
Price: 750ml $34.95



John Schreiner

John Schreiner has been covering the wines of British Columbia for the past 30 years and has written 10 books on the wines of Canada and BC. He has judged at major competitions and is currently a panel member for the Lieutenant Governor's Awards of Excellence in Wine. Both as a judge and as a wine critic, he approaches each wine not to find fault, but to find excellence. That he now finds the latter more often than the former testifies to the dramatic improvement shown by BC winemaking in the past decade.