---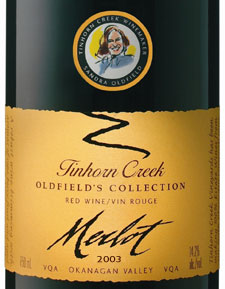 Tinhorn Creek Vineyards
2003 Oldfield's Collection Merlot
(Okanagan Valley)
This is the third vintage, and the best so far, of Tinhorn Creek's flagship red wine. A big, ripe red wine, it could serve as a benchmark for Merlots from the south Okanagan, well priced for the quality. With a production of 1,302 cases, the wine – unlike so many premium reds – is readily available.

The 2001 Oldfield's Collection was the first reserve wine produced at Tinhorn Creek. Since the winery's first vintage in 1994, it has succeeded with a focused selection of mid-priced reds and whites, with a total production of more than 30,000 cases a year. The first reserve wine was only released on Tinhorn Creek's 10th anniversary. The wine was also a stalking horse to test the waters with screw cap closures. A small portion of the 2001 was released with screw caps, often in twin packs allowing consumers to compare with the same wine from a cork-finished bottle. Putting its best wine under screw cap proved an effective way for Tinhorn Creek to soften up consumer resistance. Now, all of its wines come with screw caps, a closure the winery believes is superior.

Winemaker Sandra Oldfield makes this wine by selecting the best barrels in Tinhorn Creek's cellars after fermentation. The wines are aged 15 to 16 months in new barrels (50% French oak, 50% American oak). The wines are then blended, allowed to marry for several months before bottling and then aged in bottle a year before being released.

The 2003 Oldfield's Collection Merlot, with 14.7% alcohol, reflects the vintage, a hot one, that delivered ripe, intensely-flavoured grapes. The wine is almost black in colour, with aromas of plums and blackberries. The rich flavours are layered, with notes of plum and cassis and oak. The long, ripe tannins contribute to the wine's luscious texture and its long finish. 90 points.
Reviewed November 5, 2006 by John Schreiner.
Other reviewed wines from Tinhorn Creek Vineyards
---
Winery: Tinhorn Creek Vineyards
Vintage: 2003
Wine: Oldfield's Collection Merlot
Appellation: Okanagan Valley
Grapes: Merlot (86%), Cabernet Franc (13%), Syrah / Shiraz (1%)
Price: 750ml $28.00



John Schreiner

John Schreiner has been covering the wines of British Columbia for the past 30 years and has written 10 books on the wines of Canada and BC. He has judged at major competitions and is currently a panel member for the Lieutenant Governor's Awards of Excellence in Wine. Both as a judge and as a wine critic, he approaches each wine not to find fault, but to find excellence. That he now finds the latter more often than the former testifies to the dramatic improvement shown by BC winemaking in the past decade.