---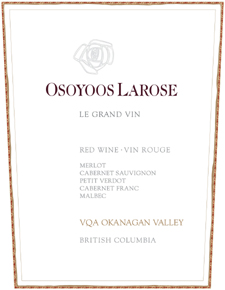 Osoyoos Larose
2004 Le Grand Vin
(Okanagan Valley)
For wine collectors, Le Grand Vin from Osoyoos Larose has emerged as a must-have Canadian red. This is the fourth vintage – and certainly the finest – to be released. The improved refinement of the wine reflects the maturity of the vineyard, where planting began in 1999. And the volume – 18,500 six-bottle cases compared with 4,000 six-bottle cases in 2001 – shows that most of the 60-acre vineyard is now in full production.

Osoyoos Larose is a joint venture that was formed in 1998 between Vincor Canada and Groupe Taillan of Bordeaux. Except for marketing, the French have been calling most of the shots, including the choice of the vineyard, the Merlot-dominant planting strategy, the recruitment of a winemaker and the equipping of the cellar. Pascal Madevon, the Parisian winemaker, insists that he is making Okanagan wine, not French wine. However, the Bordeaux signature to his wines is unmistakable.

This is a generous and dark-hued wine, with inviting red fruit aromas and flavours of plums, black cherries, and chocolate well integrated with oak flavours (the wine has 18 months in barrels, 60% of which were new, 40% one-year old). The tannins are long and supple but firm enough for reasonable longevity. On the palate, the texture shows excellent concentration. The finish is long and elegant. 92 points.
Reviewed November 24, 2006 by John Schreiner.
Other reviewed wines from Osoyoos Larose
---
Winery: Osoyoos Larose
Vintage: 2004
Wine: Le Grand Vin
Appellation: Okanagan Valley
Grapes: Merlot (68%), Cabernet Sauvignon (21%), Petit Verdot (5%), Cabernet Franc (4%), Malbec (2%)
Price: 750ml $40.00



John Schreiner

John Schreiner has been covering the wines of British Columbia for the past 30 years and has written 10 books on the wines of Canada and BC. He has judged at major competitions and is currently a panel member for the Lieutenant Governor's Awards of Excellence in Wine. Both as a judge and as a wine critic, he approaches each wine not to find fault, but to find excellence. That he now finds the latter more often than the former testifies to the dramatic improvement shown by BC winemaking in the past decade.