Brys Estate Vineyard and Winery: winery information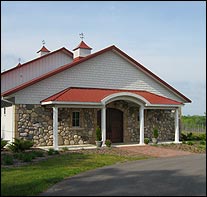 Winemaker: Coenraad Stassen
Coenraad Stassen grew up in the Western Cape, South Africa among the grapevines of the famous Cape Town region. His start in winemaking was a temporary position in harvest work in 1995 that quickly turned into a permanent position in winemaking. At the same time, Coen attented the Elsenburg College (now named the Cape Institute for Agricultural Training) in Stellenbosch where he graduated at the top of his class in the Senior Technology program. After eight years honing his winemaking skill in Cape Town, Coenraad joined the international exchange program through Ohio State University in 2003, brining him to Old Mission Peninsula - the place he now calls home. Coenraad joined the Brys team in 2007 after completing his internship and working as co-winemaker for a neighboring winery, where he assisted in earning 32 medals in his last year - 20 of them silver or gold. Coenraad has a strong focus on producing high-quality dry reds and has a crisp clean approach in producing whites. He shares a passion with Walter and Eileen to produce international award winning, estate grown wines.
Annual Production: 5,000 cases
Estate Vineyard Acreage
Brys Estate is located on an 80 acre parcel on Old Mission Peninsula between the East and West arms of the Grand Traverse Bay. Currently 33 acres are planted in vines.
Grape Varieties Planted