Chateau Chantal: winery information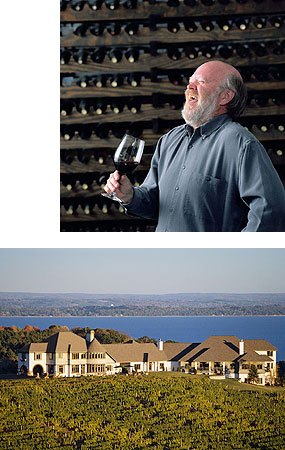 Winemaker: Mark Johnson
Mr. Johnson is Vice President of the Company and also serves in the position of Winemaker. His responsibilities include overseeing the Company's wine production, distribution marketing, wine record keeping and vineyard management.

Mr. Johnson received his B.A. degree in social work from Michigan State University in 1974. In 1983, he received a degree in Viticulture and Enology at the Federal Research Station and Institute, Geisenheim, Germany. From 1983 to 1993, Mr. Johnson was employed as a winemaker at Chateau Grand Traverse, a local winery. His employment with the Company began in 1993. Mr. Johnson is also a director of the Company.
Annual Production: 18,000 cases
Estate Vineyard Acreage
Chateau Chantal offers a wide variety of fine wines, from very dry to lightly sweet, grown on our Old Mission Peninsula vineyards in Northern Michigan. We also own a 55 acre vineyard in Mendoza, Argentina where we produce a rich Malbec red wine. Each of our hand-crafted wines is produced under our winemaker's meticulous supervision from vineyard to bottle. Our vineyard development in Michigan began in 1983 when sweet and tart cherry orchards were replaced with grafted grape vines of the vinifera species – the same type grown along other parts of the forty-fifth parallel in regions such as Bordeaux, France. Our wines have won several awards, including six gold medals at the 2009 Taster's Guild International Wine Competition.
Grape Varieties Planted