Clos Du Val Winery: winery information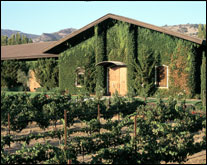 Winemaker: John Clews
John Clews started his career as a London accountant in the 1970s, but his passion for wine led him to swap his calculator for a crush pad and life as a full-time winemaker. The Rhodesia native became enthralled with winemaking while attending the University of Cape Town in South Africa. His growing interest in wine led him to the University of California at Davis where he was awarded the prestigious M.A. Amerine Research Scholarship from the Wine Spectator and earned his M.S. in Viticulture and Enology. Clews joined Clos Du Val in April 1999, after acting as general manager/chief enologist at Steele Wines, and working at Newton Vineyard in Napa Valley and Preston Vineyards in Sonoma County. He is currently responsible for overseeing all aspects of vineyard and wine production.
Annual Production: 85,000 cases
Estate Vineyard Acreage
Clos Du Val owns 150 acres in the Stags Leap District appellation of Napa and 180 acres in Carneros.

Vineyards are farmed sustainably, with minimal to no chemicals, cover crops are planted between rows and the use beneficial insects and owl boxes to control pests in the vineyard. Additionally, in 2007, Clos Du Val completed a streambed restoration project with the Federal Department of Fish & Game. The project focused on Buhman Creek, which runs through the Carneros vineyard. Finally, Clos Du Val has switched all tractors and farming equipment to biodiesel and is in the process of installing solar panels at the winery.
Grape Varieties Planted