Eyrie Vineyards: winery information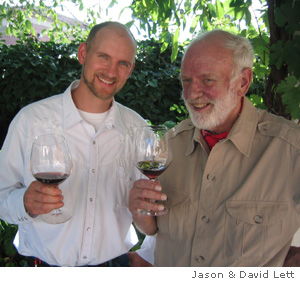 Winemaker: Jason Lett
Jason Lett is the second-generation Winemaker, Vineyard Manager (and self-proclaimed Curator) of The Eyrie Vineyards. He is the youngest son of David ("Papa Pinot") and Diana Lett.

While most of his experience was earned working in the family operation, Jason continued his education graduating magna cum laude in Biology from the University of Mexico in 1997. Jason then worked throughout the world's finest Pinot Noir producing regions, starting with harvest in New Zealand, and continuing through Europe. In 2003, after following other pursuits, Jason accepted a position as Vineyard Manager at Bishop Creek Vineyard, transitioning to sustainable production and helping to make it a sought-after destination for vineyard designated wines. At the same time, he started producing his own Pinot Noir and Chardonnay under the BlackCap label.

While his parents continue to be involved at their pioneering winery, Jason took over for his father as Winemaker and Vineyard Manager at The Eyrie Vineyards in August 2005.
Annual Production: 10,000 cases
Estate Vineyard Acreage
49 acres of organically farmed, unirrigated and own-rooted vines planted at varying elevations in the Dundee Hills AVA.

-- The Eyrie Vineyard: 15 acres planted in 1966
-- Stonehedge Vineyard: 13 acres planted 1975-1979
-- Rolling Green Farm: 6 acres planted 1987-1988
-- Three Sisters Vineyard: 15 acres planted 1987
Grape Varieties Planted