Swanson Vineyards: winery information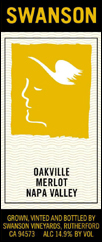 Winemaker: Chris Phelps
Prior to joining Swanson Vineyards & Winery, Chris studied both enology and French at Davis and, after graduation in 1981, entered the Institute of Enology at the University of Bordeaux. In addition to an intensive tasting/sensory program, his requirements included practical experience: he served as winemaker at Chateau des Laurets in Puisseguin-St. Emilion during the "blockbuster" 1982 harvest. He was then invited by Christian Moueix of Chateau Pétrus to join a new Napa Valley winery, Dominus Estate. Following six months of intensive training at Pétrus, Chris served as winemaker at Dominus from 1984 through 1996. Then, seeking guidance from Chris for various winemaking projects, Caymus Vineyards employed him for the next seven years, where he served as red winemaker for Caymus from 1999 through spring 2003.
Annual Production: 25,000 cases
Futures
The Salon offers such small-batch wines as Angelica, Rosato, Chardonnay, Sangiovese, Syrah, Late-Harvest Semillon, Petite Sirah and a sparkling Muscat -- wines found only at the Swanson Salon.
Estate Vineyard Acreage
Swanson Vineyards owns two vineyards in Oakville: 100 acres along the Oakville Cross Road, located adjacent to Opus One and Silver Oak Cellars; the second 40 acre vineyard, known as the Schmidt Ranch, is located west of highway 29, and is equidistant between Martha's Vineyard and Dominus.
Grape Varieties Planted