If you landed in the middle of the Four Mile Creek appellation you might think you just arrived in the Canadian Prairies first DVA. The largest of the Niagara Peninsula's new sub-appellations, is also it's flattest and most fertile (soils have a high silt and clay content). The little slope in the appellation can be found in vineyards located on the boundary with the Saint David's Bench DVA. Given its gentle slopes, vineyard orientation is less relevant in this DVA. However, this lack of slope can be problematic on nights where frost is a risk, as air circulation is minimal. Summer's are warm in this area and nights cool providing excellent diurnal temperature variation which helps retain acidity in the grapes. Despite the warmth of the summer sun in this DVA, there is a slightly shortened growing season. Total degree days do not exceed surrounding appellations. The Four Mile Creek DVA distance from the moderating effects of Lake Ontario, presumably puts this appellation in greater risk of winter kill.

Embracing Virginia's Terroir
By
Richard Leahy
June 2, 2013
Since Thomas Jefferson first tried to cultivate European vinifera in Virginia, the state has been a decided piece of American wine country. Over the years better knowledge, equipment and materials have all contributed to an advancing wine industry, but the more recent decade or two has brought out the real potential that can be found.   [>] continue

Shake Ridge Ranch - Gem of the Sierra
By
Roger King
May 16, 2013

Tannat, Vibrant Across the America's
By
Barbara Trigg
May 6, 2013

Welcome Middleburg Virginia AVA
By
Roger King
January 4, 2013

Humboldt County: Is Too Much Terroir Possible?
By
Clark Smith
October 14, 2012

Historic Buena Vista Winery Restored
By
Barbara Trigg
September 18, 2012

Three Days in Humboldt County and Willow Creek
By
Barbara Trigg
August 22, 2012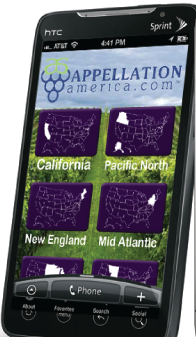 Appellation America Launches New App
By
Roger King
August 2, 2012