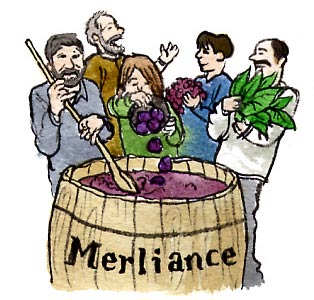 LIMA Uncorks Merliance in Manhattan
Five Long Island winemakers collaborate to produce a single wine that represents the region's signature variety, Merlot.
by Lenn Thompson
April 28, 2006
---
On April 3rd, the Long Island Merlot Alliance (
LIMA
) hosted a press and trade preview tasting at Craft Restaurant in Manhattan of its first co-produced wine – the 2004 Merliance.
Formed last fall by
Raphael
,
Pellegrini Vineyards
,
Sherwood House Vineyards
,
Shinn Estate Vineyards
and
Wolffer Estate Vineyards
, LIMA believes
Merlot
is
Long Island
's signature grape varietal and as such has dedicated itself to its advancement and continued quality in our region. <!>In addition to the collaborative production of Merliance every year, the group plans to hold educational programs and sponsor research into exactly why Long Island is so well suited to successfully growing Merlot year in and year out.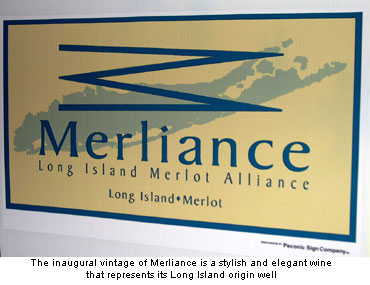 To make 2004 Merliance, which is 100% Merlot, each member winery selected two barrels from their own cellars they felt best represented their own individual style as well as Long Island's unique terroir. With ten barrels of Merlot, five wineries and five winemakers each with differing styles, LIMA knew that creating a smooth, well-integrated wine would be a challenge, but their hard work shows in the wine itself.
Tasted as a barrel sample – the wine won't be bottled for another two to four weeks and is scheduled for release in early August – one would be right to expect the wine to be awkward, uneven or even severely muted, but that is not the case with 2004 Merliance. Medium ruby in the glass, its impressively aromatic nose offers rich, but not jammy, berry aromas accented by sweet oak and gentle earthy-tobacco like qualities. Given the number of wines that went into the blend, its balance and integration are quite impressive as is its fruit-dominated palate accented by ripe, soft tannins, light sweet oak, and hints of wet gravel and earth. Words like refinement and elegance come to mind when sipping this wine.
It will be hard for any wine lover to taste this wine and not identify it as a Long Island Merlot. It shows off Long Island's terroir nicely even though, as Pellegrini's Russell Hearn said "2004 was a slightly cooler, but elegant year. We didn't want to overdo the oak on this wine." Roman Roth of Wolffer Estate concurred, adding "It is a benchmark wine not for its power but for its elegance."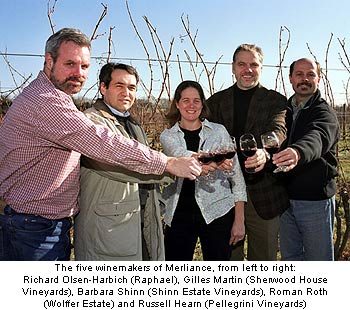 The 2004 Merliance will sell for $35, primarily at the tasting rooms of the member wineries. But, according to Shinn Estate's Barbara Shinn "a few selected restaurants and shops will (also) carry the wine." 60 percent of the $35 price tag will go back into the local wine industry in the form of local research and development, as well as education. According to Shinn, "with a large percentage of the profits going towards research this wine is a bargain. It is a unique wine. Only 250 cases were produced and it's an extraordinary accomplishment by our members."
Looking ahead to 2005, Roth sees great things from Merliance and Long Island Merlot in general. Roth goes so far as to say "what 1982 was for Bordeaux and 1976 was for Germany, 2005 is for Long Island." A bold statement but one that Roth no doubt feels will be reinforced by wines from the 2005 vintage.
In Merliance, the five-member Long Island Merlot Alliance has captured the essence of Long Island Merlot. If you love Long Island Merlot, you'll love this wine.
~ Lenn Thompson, Long Island Editor
To comment on Lenn Thompson's writings and thoughts, contact him at
l.thompson@appellationamerica.com