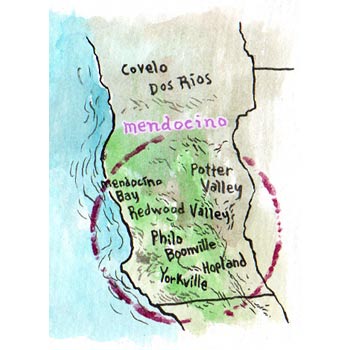 California (State Appellation)
A notion of Macro-Terroir: terroir manifestation at a broader level
Macro Terroir,...is the general, overarching similarity between a number of wines from the same or very similar grape varieties that are grown in a region that offers a similarity of growing conditions. And it need not be very delimited.

by Dan Berger
July 6, 2006
---
A few weeks back, the passionate people connected with
Coro Mendocino
(two of them have the Coro insignia tattooed on their arms!)
released the third incarnation
of their blended red wine, 11 versions this year, with the enthusiasm of a bunch of new junior high graduates.
<!> The arduous process of making a Coro
Mendocino
wine always leaves those involved with a feeling of dread and awe, partially because the system calls for a double-blind analysis of the wines by the wine makers themselves, and more than once a wine maker has put the kibosh on his own wine!
So when, at long last, the wines are bottled and unveiled to a press contingent laden with those fascinated by esoterica, the project participants breathe a hearty, audible sigh. At that point, hope gushes that the wine will be discovered as a brilliant concept, not to mention as tasty.
Forget the fame. Much as I love the idea of a Coro Mendocino, and much as I like the wines and the people who make it, reality -- always a cold wet rag -- says that this wine will take its rightful place in the world of $35 wines in a $20 society: misunderstood and geared mainly for the adventurous few who get what's going on.
And what's going on is a message for all terroir lovers, despite the fact this idea hasn't been used overtly by almost anyone, not even the progenitors of the concept. It is, simply, that Coro Mendocino may be one of the most compelling of counter-arguments to those who dispute that the site of a vine's roots dictate a character that makes the resulting wine unique.
Coro Mendocino is defined as a wine that has the following basic characteristics: It is at least 40% and no greater than 70%
Zinfandel
; all the grapes must come only from
Mendocino County
, and the blend must be representative of a top-of-the-line wine that represents the contextual feel of Mendocino County. And so it is that some of the blends rely on
Petite Sirah
, others on
Sangiovese
, and some even a tad of
Pinot Noir
, odd as that may seem.
How, one initially wonders, can there be any similarity between one Coro Mendocino red whose Zinfandel is from the altitude-dictated, marine-influenced
Mendocino Ridge
appellation and another that is from the valley floor of inland
Redwood Valley
?
Yet there it was the other day, 11 of these puppies all showing a very similar characteristic. But as I was making the long drive back from the unveiling luncheon, it dawned on me that the similarities among the wines were not specific in terms of identical traits. These were generally parallel wines that all showed a slightly higher alcohol (all at 15.0% or so); all showed a degree of cranberryish tones, all had the faint peppery notes that seem to be evident in Zin grown in this county, regardless of specific locale, and all had good, low pH numbers.
This was, I began to muse, more evidence of "Macro Terroir," which oddly enough is greater proof of the existence of terroir than is Micro Terroir.
Not that I need convincing. Not that it isn't already evident in places like Saint-Estèphe, Montalcino and the Pfalz. But here we have a cogent American example that's worth exploring.
Macro Terroir, if I may be permitted the liberty of defining it (since I just made up this term), is the general, overarching similarity between a number of wines from the same or very similar grape varieties that are grown in a region that offers a similarity of growing conditions. And it need not be very delimited.
In this case, you might take note of the fact that the thin, eroded soils on the slopes of the Mendocino Ridge appellation are radically different from the fertile loams in Redwood Valley's floor. That this is a fact seems to detract from the Macro Terroir argument, but it actually firmly reinforces it.
Indeed, the concept of Micro and Macro Terroirs has long been an unstated thesis of James Halliday, the estimable and authoritative Australian wine writer. In his new "
Wine Atlas of Australia
" (University of California Press, $45; Oct. 15, 2006), Halliday's vital preface focuses not on soil as much as on the impact (micro and macro) of weather on Australian wines' regional characteristics. Chatting with James on June 28 over dinner, he affirmed that weather has always played a greater role in the perception of regional identity for savvy Aussie wine buyers, which is one of the reasons that so many regions of Australia do have a distinctive tone to them.
That is evident from the different incarnations of
Shiraz
we see -- how a McLaren Vale differs from a Clare, how a Coonawarra differs from a Langhorne Creek. It's also evident in the
Rieslings
,
Semillons
, and numerous other grapes that fascinate Aussie wine lovers.
Want another classic example? How about
Cabernet Franc
from the East Coast of the United States?
Here is an obvious example of uniqueness. Cabernet Franc, a most assertive variety, has a natural floral quality that, at higher alcohol levels, can be blueberry-ish, or even offer a red currant character. However, that calls for ripeness levels that are generally not possible in climates where fall weather drops the temperatures and where ripeness levels of 24 Brix, or higher, are simply not possible.
In areas like
New York
,
Michigan
and notably
Virginia
, Cab Franc (as it is usually made) delivers a bit more of the tarragon/thyme sorts of nuances along with mineral notes that are a natural component of the variety when it is picked earlier. There are noticeable differences between the herbal Virginia Cab Francs, the anise and earthy notes found in New York's versions and the dried plum of Michigan's style. Part of the distinctiveness of these wines is that their alcohol levels run 12.5% to 13.0%, little more, due mainly to harvesting at 22.5 Brix, and rarely more.
In this respect, the wine is more like Cabernet Franc from the Loire Valley, with its distinctly herb/mineral notes and little if any barrel contact.
However, it is the weather that dictates this to a greater degree than does the soil. And should an expert in New York Cabernet Franc mistake a Virginia Cab Franc for a New York version, it would be understandable.
But almost no one with a solid understand